In this post we look at flat pedals from just about every angle. We're pretty sure we've included everything you need to know about this resurgent category of pedal.
But if you feel there's something we've missed, make sure to let us know—we'll include it in some shape or form.
Quick Links to Sections

Why are Flat Pedals Better?
What are the Best Flat Pedals?
What are the Best MTB Flat Pedals?
What Shoes go with Flat Pedals?
B2B Product Development & Manufacturing
Flat Pedal Maintenance
Flat Pedals for Ebikes?
WHAT ARE FLAT BIKE PEDALS?

No such thing as a "flat bike" so … there's your answer ?.
But, seriously, the poor choice of words aside, bicycles started out with flat pedals, although they were simply pedals of course.
And if you're wondering about the difference between platform pedals and flat pedals might be, wonder no more—there is no difference. Flat and platform are used interchangeably.
Flat pedals were once just pedals. The popularly named original bicycle was the Penny Farthing, also known as The Ordinary.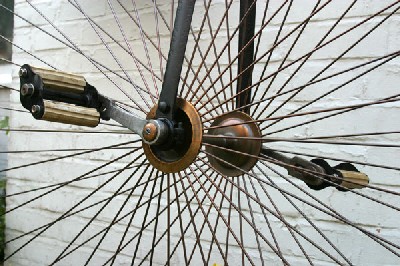 The pedals on this lovingly restored Ordinary, manufactured by Thos Humber in 1882, are pretty basic; just an axle fitted to a body with some ball bearings made safely usable by a pair of wooden blocks acting as a platform on each side of the axle.
Pedal design innovation in recent decades has seen the advent of several pedal classes, although the original design endured for many decades.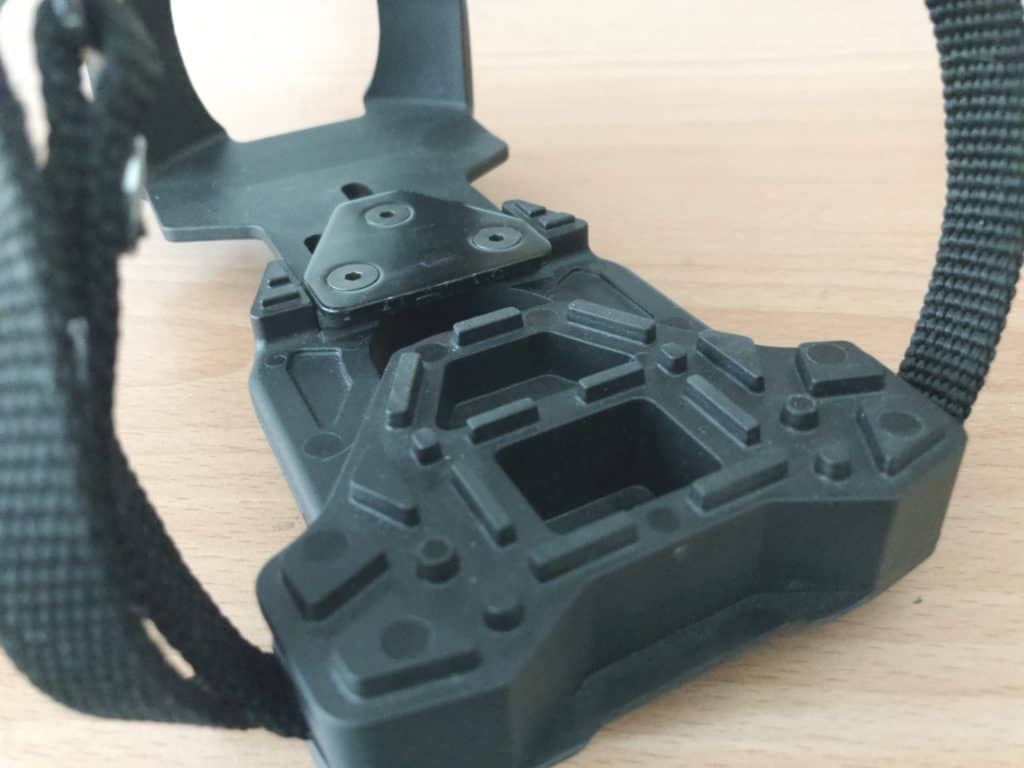 The first departure from the original platform design was in attaching a cage to a pedal's leading edge, increasing pedal efficiency through increasing a rider's leverage against the pedal. This model's specifically for indoor cycling exercise bikes where you'll find the greatest application of toe clip pedals these days.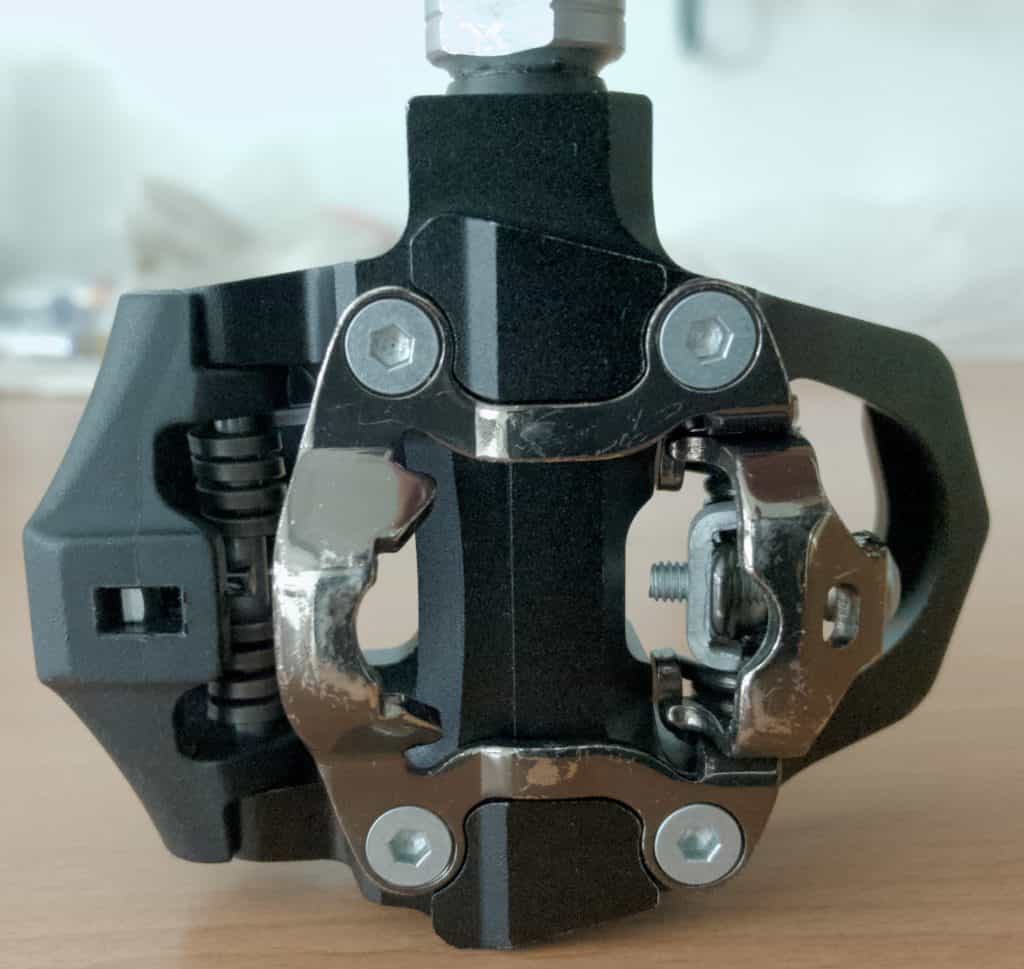 The next innovation took us to the (confusingly named) clipless pedals, which, of course we do actually clip into, and which diversified into a number of forms, from Look's Keo to Crankbrothers Eggbeaters and the super-wide Shimano series in the late 2000s.
We now have dual sided pedals where one side is flat; the other has a cleat accepting a clipless (ie. clipin) bracket bolted to a shoe.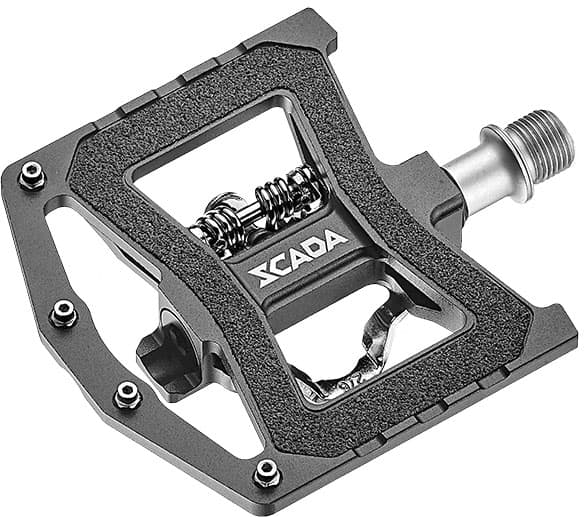 The cleat bracket is visible on the underside. On top are four removable pins together with a 'sandpaper' finish for a non-slip grip.
Recent years have seen a return to flat pedals in a big way. However a much greater variety and technical provisions of designs are possible now, largely due the CNC manufacturing flexibility—we'll cover that below.
WHY ARE FLAT PEDALS BETTER?

Or rather, why have flat pedals become such a hot item over the last few years?
The diversity in design is the main reason, which feeds into a wider product range, greater product visibility. Supply—ultimately—creates demand.
All flat pedals have in common a wide platform accommodating a rider's whole foot with features designed to hold the foot to the platform in critical situations or tricky conditions.
Mud build-up on a pedal in seriously heavy trail conditions can also be minimized by creating space where you once would have had a surface. Mud that cakes onto a pedal body is easily knocked off as it falls through the gaps.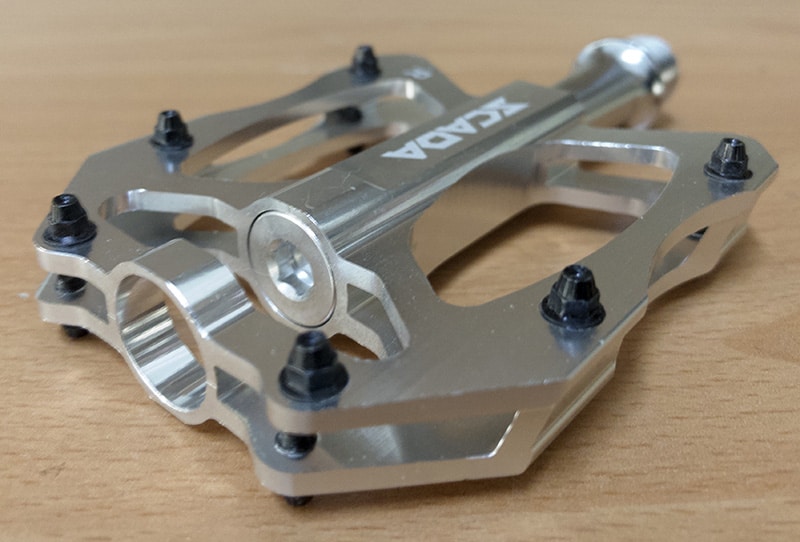 Platforms range from a little wider than normal to extremely broad for enhanced stability, and adding pins takes grippiness to a whole new level.
For example, the shock from dropping into a pothole on the road or trail can dislodge foot from pedal where a rider is not using a cleated/clipless unit.
So why use a flat pedal and not a cleat?
Because you can adjust your foot to exactly where you need it. With the right number of pins placed just where you like them, cleated fixture to a pedal offers no advantage as there is little chance your foot will slide off the pedal (although this depends a lot pin placement and pin length).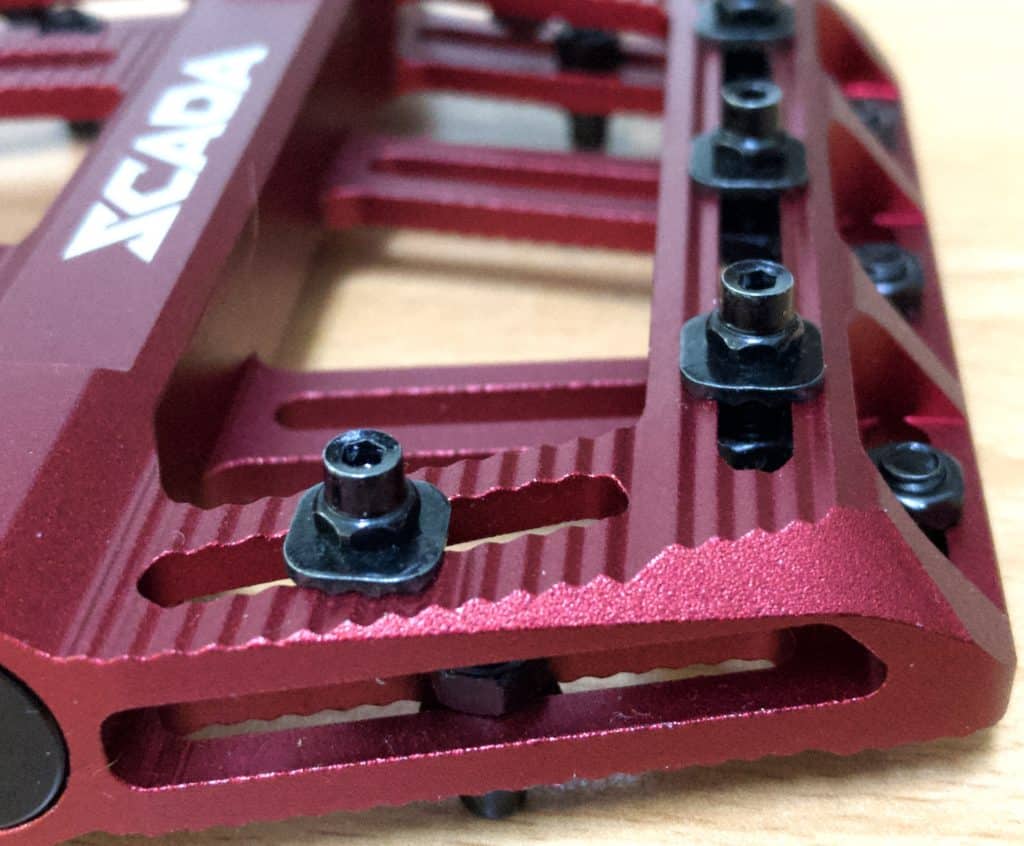 Replaceable pins of different lengths, different or variable positioning and perhaps mild concaves (MTB designs) in the pedal body, or variably roughened, and even slightly convex surfaces (see the #Colleen below), can be used in an almost infinite number of combinations.
The central design elements of flat pedals significantly enhance riding efficiency and safety. Nevertheless, for some high performance riding—road racing or gravel bike racing for instance—where maximizing pedal upstroke gains a rider precious seconds over the course of a race, cleats are clearly the best solution.
However for the mass of other bikes, particularly BMX, city, commuter and touring bikes, flat pedals are optimum.
The diversity of flat pedal designs could well lead us to seek redefinition of the 'flat' category, as design innovation spills beyond its boundary—but we'll leave that discussion for another day.
WHAT ARE THE BEST FLAT PEDALS?

The best pedals are those which best suit the type of riding you intend to do. Whilst flat pedals are used across all bike categories, mountain bikes feature the most technically advanced and nuanced designs.
We'll show you some top notch flat pedals below. But for now, let's cover some general principles.
At the most basic level the key elements are the pedal body, a main bearing, and a 'minor' bearing or Lightweight Self Lubricating (LSL) bushing.
The best flat pedal gives you the exact design (dimensions, weight, material) you are looking for and durability of components: when you finally need to replace a bearing or axle, you should be able to source the parts easily and at a reasonable price.
Pedal Body

The body shape and material used are key to a durable flat pedal body. The choice of material comes down to balancing durability, weight, and cost.
Titanium is light, but more expensive and not quite as strong as aluminum alloy. AL ("aluminum")7075 is a lighter alloy to use than AL6061. However 7075's higher cost compared to the incremental performance gains does not automatically make it the obvious choice.
Thermoplastic is lighter and a good deal cheaper than aluminum, but not as durable of course.
Bearings

Bearing quality is a huge issue. The higher quality the bearing, the better quality the pedal.
The main bearing is the sealed bearing, right where the axle enters the pedal body. Sealed bearings are an advance on loose cup-and-cone models of yesteryear, not only because they're designed to keep impurities like liquid mud away from the sacred bearing-to-race interface, but also because they are manufactured to a more exacting standard.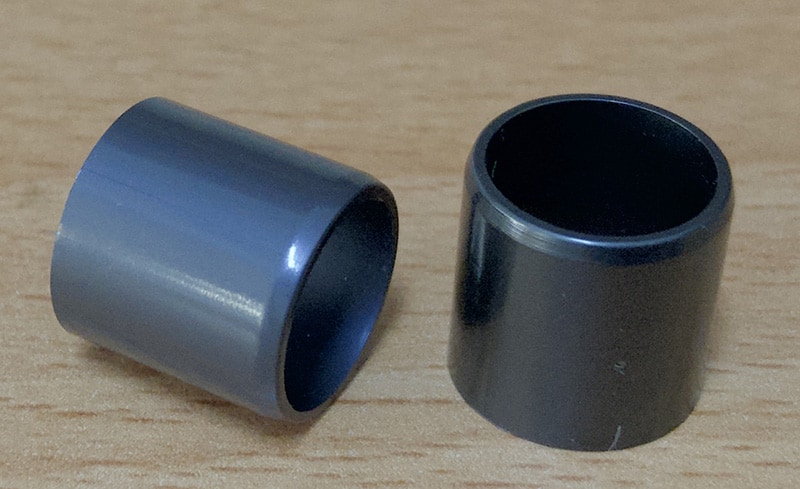 An LSL bushing is a self-lubricating bearing installed at the end of the axle, opposite to the sealed bearing.
LSL bushing bearings are the perfect alternative to installing another sealed bearing. Any sealed bearing would be too small and probably wear out more rapidly and more frequently than the main bearing. (For example, the change in BB design where cartridge bearings moved "outboard" enabled larger bearings and greater bearing longevity).
LSL bushings, in contrast, are light and have an extremely low friction ratio for a friction reduction system not utilizing balls on—or cylindrical bearings in—a race.
These bearings also have extremely high resistance to distortion, particularly from vibration, and are little affected by temperature changes and continually variable speeds typical in mountain biking.
Surface-on-surface lubrication is by means of oil retained uniformly in pores distributed across and just beneath a bushing's alloy surface.

We've removed the dust nut and axle from this 'sandpaper'-surfaced city/commuter flat pedal revealing the bushing bearing tucked away inside the recess.
Axle removal, by the way, is similar across most flat pedals. Removing the dust nut allows access to the axle nut. Once you remove the axle nut, you simply slide the axle out of the cavity.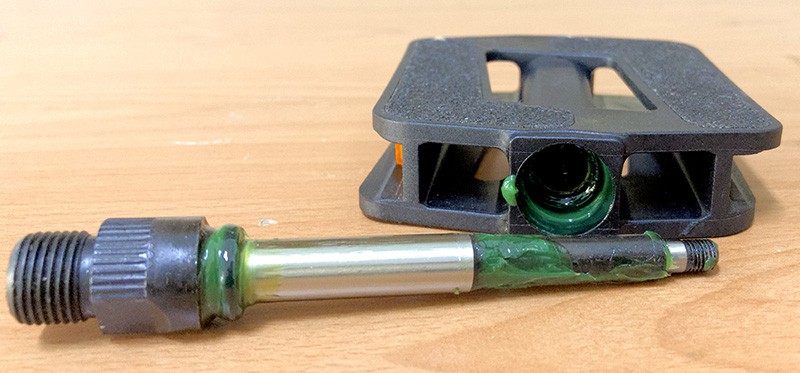 A good flat pedal's axle and bearings are installed in a generous slather of quality grease providing lubrication for the life of a pedal in most cases, except in the unlikely event of extended immersion in water or mud.
Periodical removal and re-greasing is a good maintenance practice—your pedal's longevity is all but guaranteed.
In the image above, the sealed bearing sits just inside the axle cavity. The bearing can be tapped out and replaced although, again, sealed bearings are extremely durable and you'll likely never need to replace yours.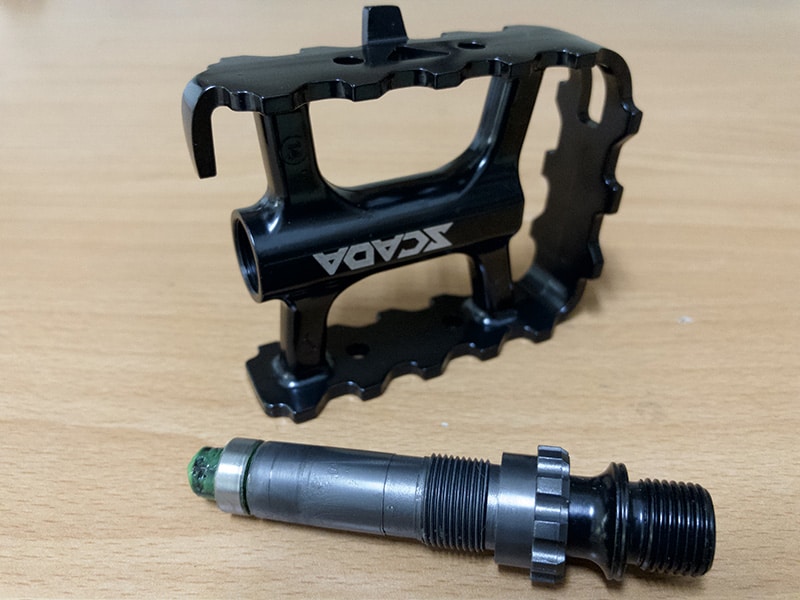 In contrast, in this variation the sealed bearing is fitted to the axle and lacks a dust nut; the unit screws into the pedal body with the LSL bushing
Body Surface

Ideally we'd all prefer that the pristine, wonderfully finished surface of a new flat pedal purchase would not get scuffed up.
But unless you have had some sort of imaginary porcelain super-glaze seared on at temperatures approaching the core of the Sun, nothing's going to preserve the surface.
Anodized finishes are standard on top-quality flat pedals, and it takes a fair bit of punishment before they begin to look ratty.
Flat Pedal Axle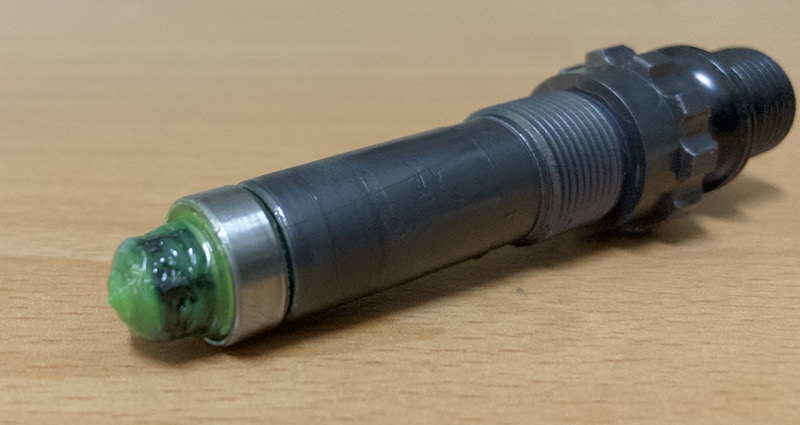 A precision-forged chromoly steel axle gives you lightness and durability.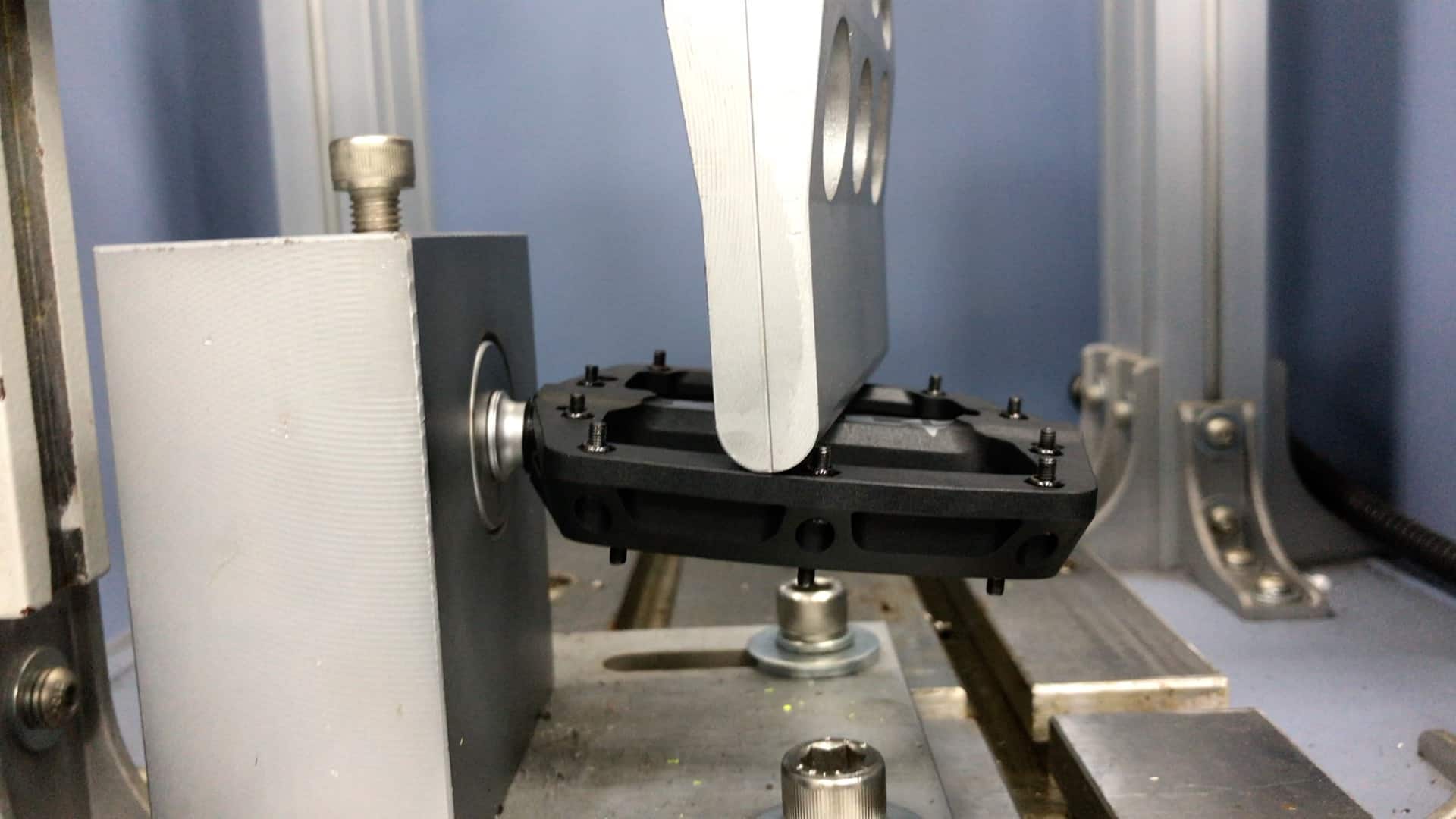 At SCADA we routinely torture flat pedal chromoly axle samples with the drop impact test, ensuring they will not bend except in any but the most exceptional circumstances, and certainly will not snap.
WHAT ARE THE BEST MTB FLAT PEDALS?

Although flat pedals are used across a range of bike models as we've touched on already, they find their most high-performance application amongst MTB enthusiasts.
And by enthusiasts we're talking serious trail and downhill extreme performance riding.
The key criteria you need in order to classify a pedal as good, let alone best, are stability, durability, and grip. Again, it's a largely subjective evaluation.
Stability: a broad platform supports your foot, without being unnecessarily bulky (and weighty) as long as it's been machined with space in mind, and gives a rider greater choice with foot positioning.
Grip: The more pins the better, but without being too long; and they need to be easily replaced. Having said that, though, thick, many riders report that chunky pins offer better traction; the number of pins and their positioning also enables a wider variety of foot positions.
Durability: you want both pedal body and axle—especially the axle—to resist even the worst impacts; the body will take just about anything you dish out, but not the axle.
Versatility: how about the best of both worlds; flat on one side with a cleat on the other to allow clipping where the context demands? Although not many purist MTB riders are going to go for these types of pedals, they are common and a potential choice.
The following designs combine these elements in various ways. As a general principle, "better" (or worse) really depends on a particular rider's expectations—and evaluation following extensive use—in relation to a set of pedals.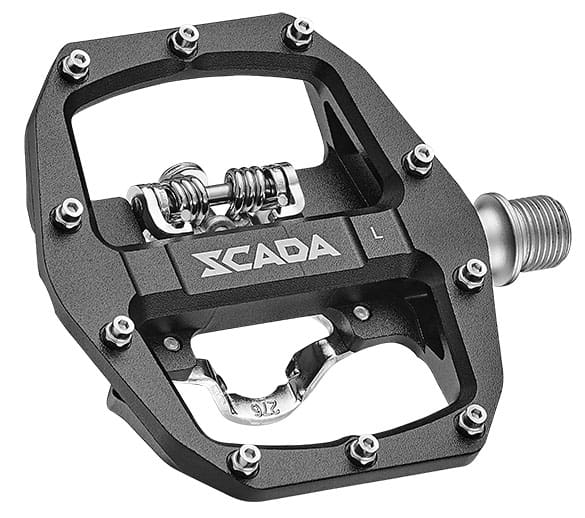 10 pins on one side with cleat binding on the flip side.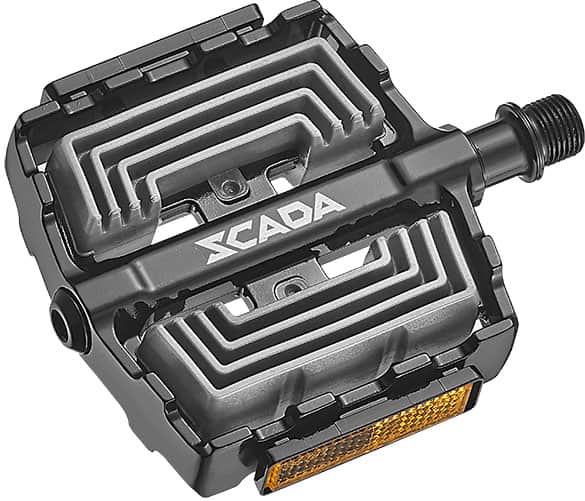 No pins but a rubber contact area to grip the sole of a shoe; excellent traction in the absence of pins.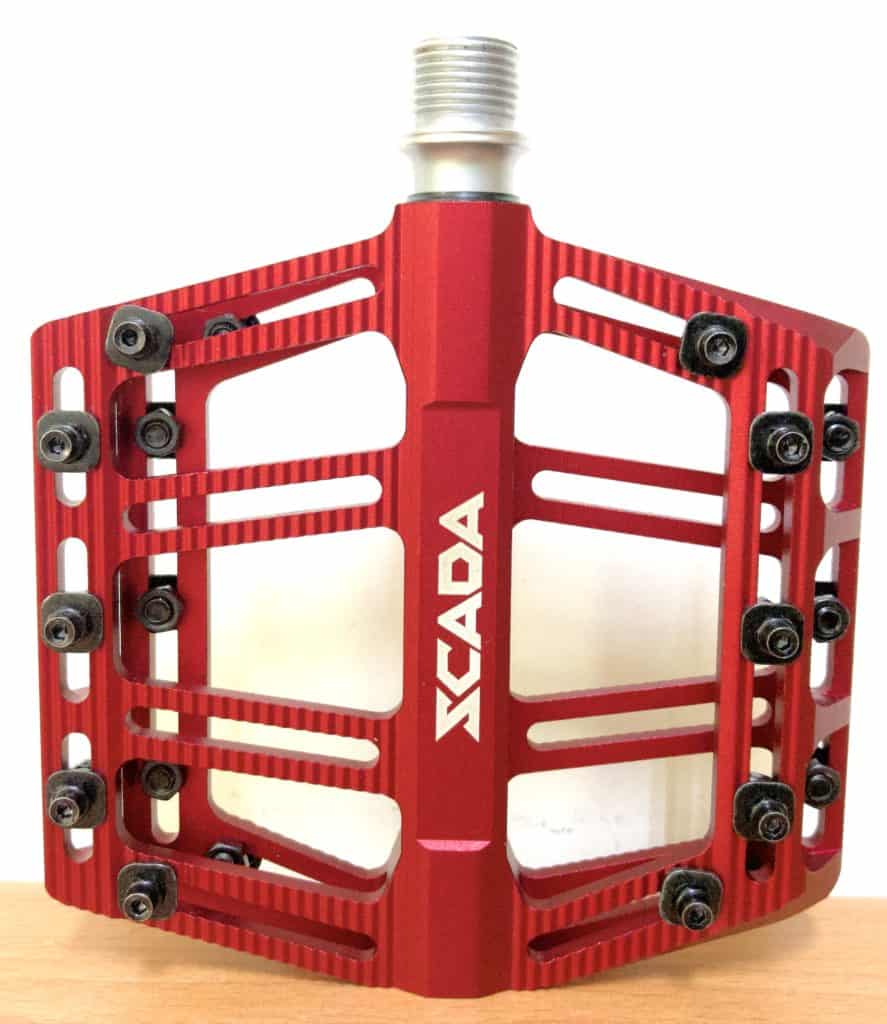 The discerning rider who knows exactly where they need to concentrate pins in relation to shoe tread, will be more than satisfied with this one.
Chromag's Dagga is a great example of a high-end, high performance MTB flat pedal with it's broad platform together with sharp (as daggers?) and plentiful pins.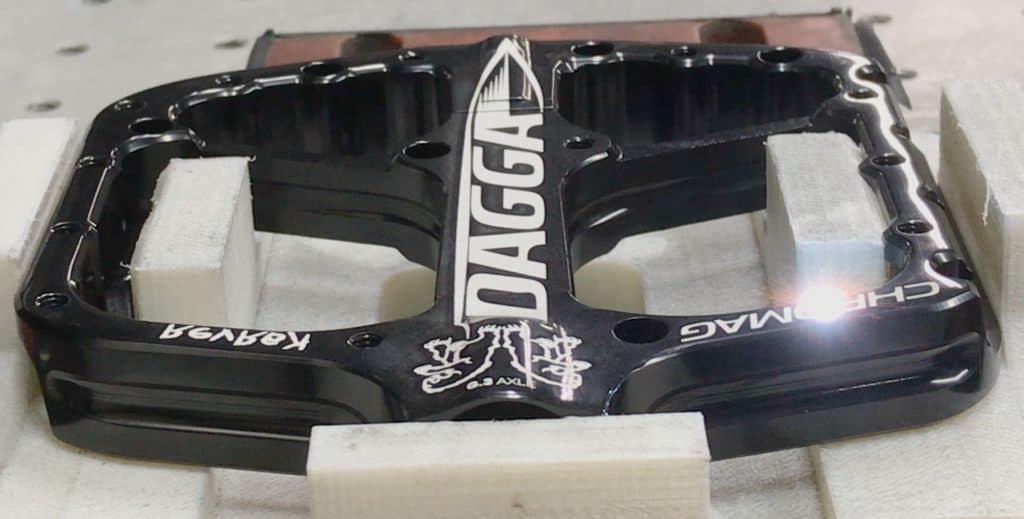 The Dagga's logo is laser-etched into the surface as one of the final processes. Then the pins can be installed. You'll see the beam zapping the last bit, bottom right of the image.
This review article reports little wear after a prolonged period of intense use. The bearings are still perfect, with no play. No pins are broken or even bent. They are replaceable if you need to; better not to need to of course.
All internal parts such as the chromoly axle and the bearings are replaceable, although you'd have to subject your Daggas to extreme punishment over an extended period to require new bearings or even an axle. A kit is available for purchase containing all you need.
So, if you're looking for a high-quality MTB pedal, then Chromag's Dagga is the sort of kit you'll want to be aiming for.
WHAT SHOES GO WITH FLAT PEDALS?

If you're on a road bike, you could remove the cleats from your road cycling shoe's hard sole.
That type of sole is useless on a flat pedal though, dangerous even, particularly if your pair has pins; the pins will just slide against the slick sole, providing no grip at all.
A mountain biking shoe's sole should be ok as long as the cleat does not get in the way. A flat sole is best; a shoe with pronounced tread, and space through the arch of the foot, will rest less easily on the pedal surface.
You could get away with wearing your normal sports shoes; a flat pedal's pins press into the less resistant soles, providing excellent grip.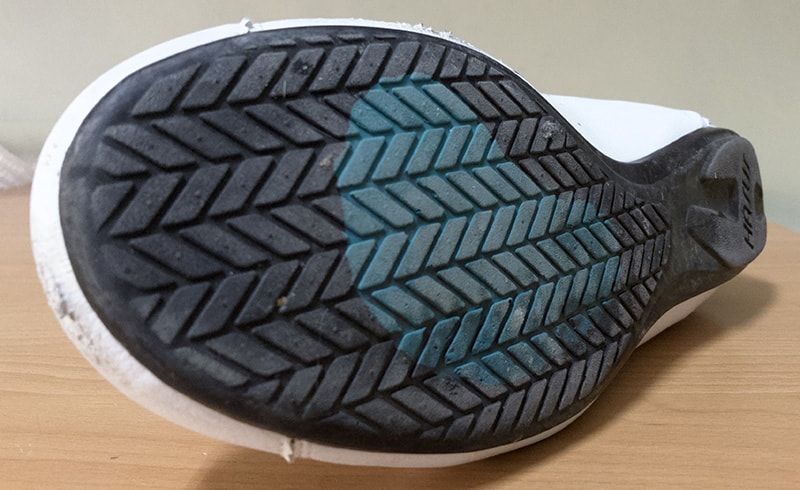 For a road bike using a shoe similar to this Hasus bike shoe is perfect. The sole is extremely grippy; pins will just snug right in to the sole's neither too soft, nor too hard, rubber surface.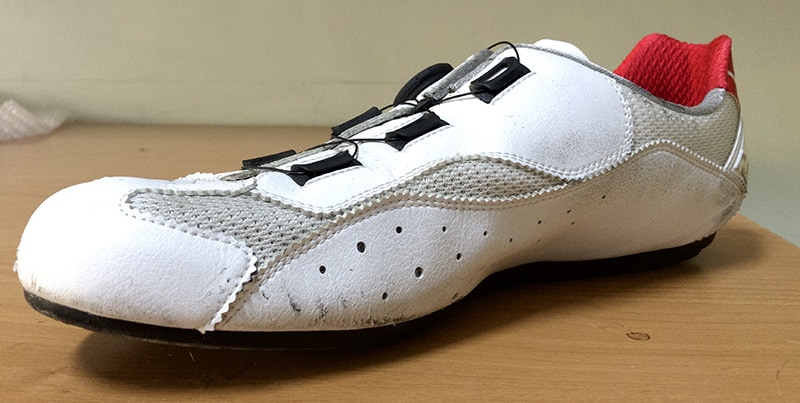 The big difference between this shoe and your average sports shoe is the narrow heel. Your sports shoe far too easily clips the chainstays, annoying at best, dangerous at worst.
Of course, for city or commuter bikes, many fashion or dress shoe designs are okay, as long as the sole has enough grip, and the shoe profile is narrow enough to avoid clipping the chainstays, which many are by default.
B2B PRODUCT DEVELOPMENT & MANUFACTURING PROCESS

This section will be of most interest to brand product managers. You'll learn plenty about how high-end brands produce your flat bike pedals, though, even if you're not.
Planning & Pre-Production
Flat Pedal projects can start out as vague ideas, as simple as a few rough sketches on scrap paper. Or a brand will present a manufacturer like us with a fully developed product plan almost ready to go straight into production.
Rough Ideas-ODM

Some brands come to us with a specific idea, a vague idea or a number of possible designs that may be simply a "look" they are after, or both a particular aesthetic and function they wish to realize.
SCADA engineers firstly work towards getting a clearer idea of what is required, including crucial specifications such as the type of crank and frame geometry.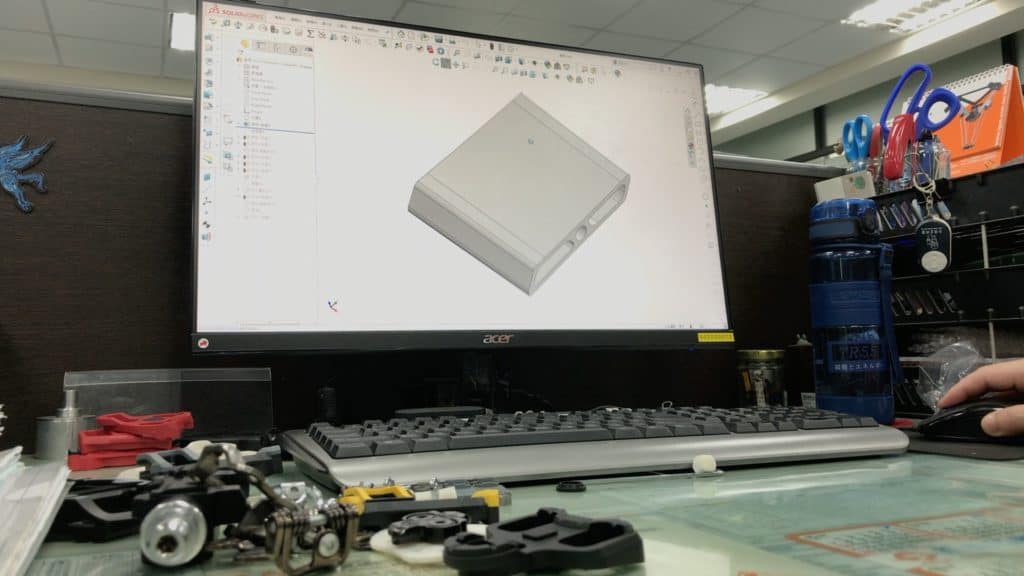 Then it's onto the drawing board, or these days, the screen displaying a CAD drawing, enabling precise visualization and pinpoint accurate angles and numbers.
This Original Design Manufacturer function melds our expertise as to what is possible with our brand client's vision of what they wish to achieve.
Well-developed Ideas-OEM

Very often a brand already has all the design and engineering details worked out in advance. They supply us with the CAD files whereupon we move straight into the manufacturing phase. In other words, we function as their Original Equipment Manufacturer.
CNC Machined Flat Pedals vs Die-Cast Flat Pedals

Most high-end flat pedals are CNC machined high-grade (often referred to as "aerospace") aluminum.
A CNC machine can cut aluminum blanks into any form imaginable. The sky truly is the limit.
A huge advantage for smaller brands—which make up the bulk of the market—is the choice of small MOQs (Minimum Order Quantity), meaning a much greater ability to satisfy their customer base with a much wider, but nuanced selection of flat pedals.
Die-casting flat pedals is a good idea where there is a mass market for a basic flat pedal. For cyclists not requiring technically advanced pedals, die-cast models are fine.
A significant drawback of die-cast pedals is they cannot be anodized. (Check out a detailed coverage of the anodizing process here.
CNC machined aluminum flat pedals, in contrast, are routinely anodized in a range of colors, nuanced and durable coloration being a key advantage of anodizing.
At SCADA, however, we use a new material, Ducalite, allowing anodizing of cast pedals.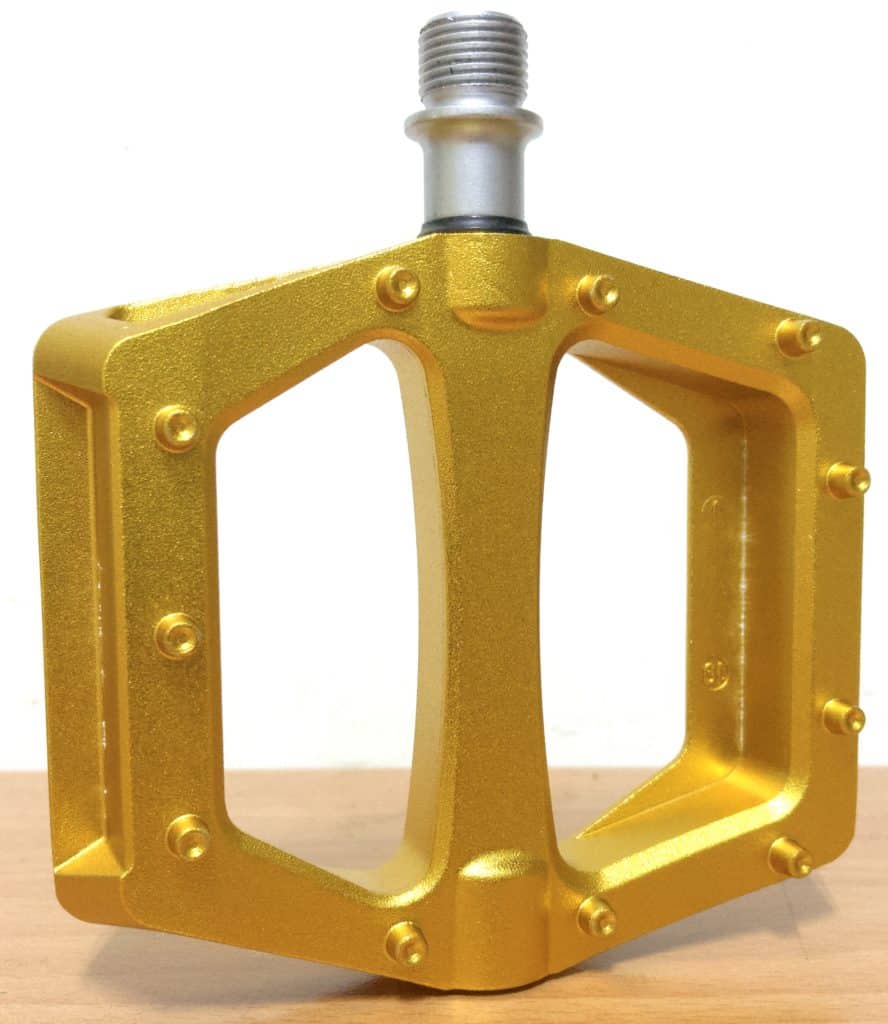 If you are a brand looking to the reduce cost of a generic production of pedals, the ability to leverage the durable finish anodizing provides, Ducalite may be what you are looking for.
Machining Flat Pedal Bodies in a CNC Machine

CNC machines rotate a cutting bit, resembling a drill bit, at high speed removing alloy at the precise points and in the precise amounts specified in the program.
Cutting generates friction heat so a steady jet of coolant/lubricant flows across the contact points. The liquid also clears away the resulting swarf which we collect for recycling.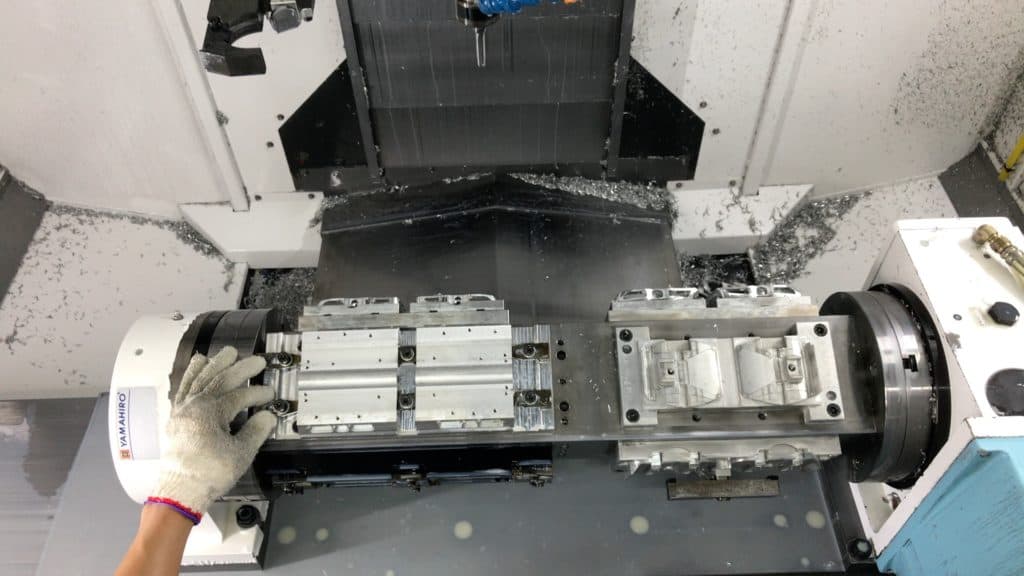 A CNC operator processes pedals in batches. He attaches the pedals to a mount, then fixes the mount to a platform which occasionally changes position and angle slightly to allow the CNC cutting easy access to the pieces as they follow their cutting sequences.
Laser Logo

Laser etching ensures the logo is visible for the life of the pedal.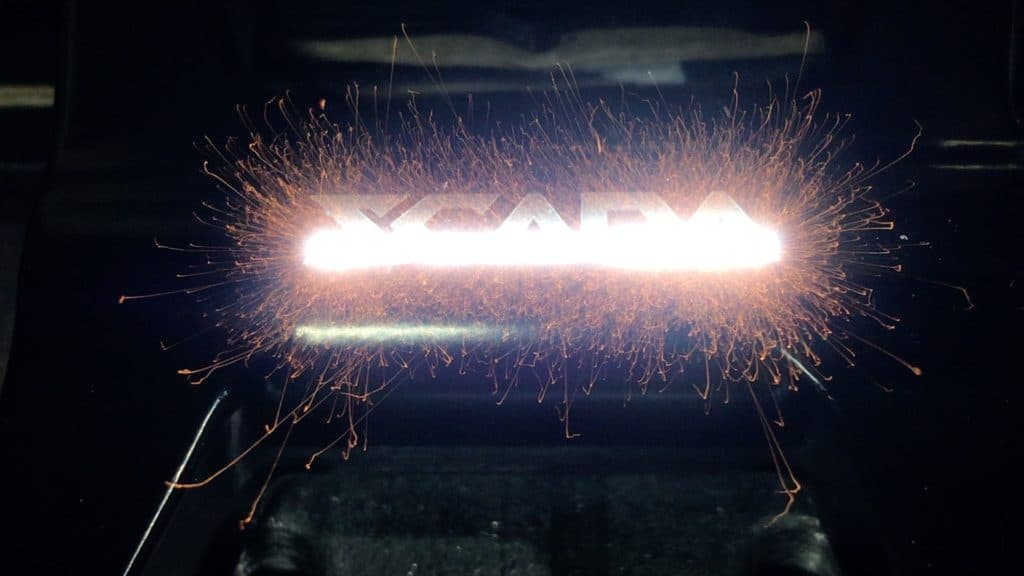 The burning procedure is simple and is available in any font or style. Very flexible.
Testing

We ensure products not only meet, but significantly exceed already stringent standards by testing in our own laboratory.
The weight you see there is placing maximum stress on the sealed and LSL bushing bearings, particularly the sealed bearing.
Bearing durability, of course, is fundamentally important. Nobody accepts pedals likely to seize in a critical situation on the trail or race course due to ball or cylinder fragmentation.
Finishing Packing & Shipping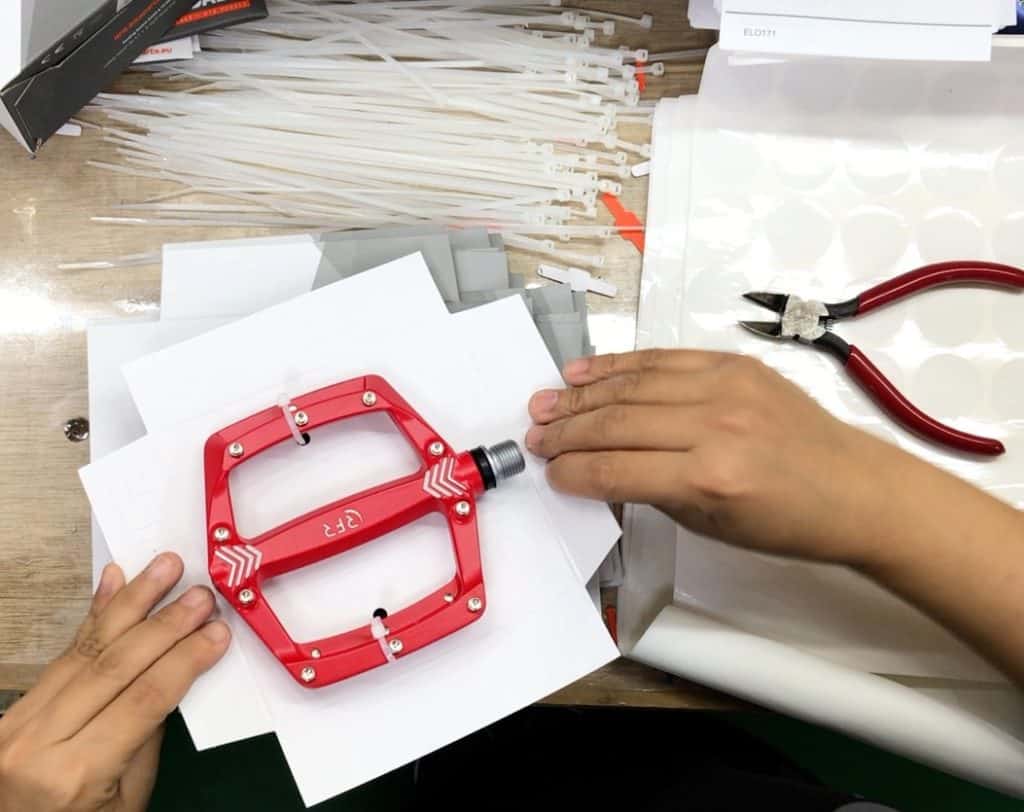 You don't want to unpack a new pair of flat pedals only to find scratches and chips in the surface (they will survive the harshest treatment otherwise of course).
We isolate each pedal, firmly securing them to backing cardboard cut to fit the box. Each product box is packed into the one box along with several others, with these boxes fitting into shipping packaging.
FLAT PEDAL MAINTENANCE

Riders who cultivate the habit of frequent bike cleaning, removing dirt build up before it even has a chance to turn into a 'build up' will have an easier time.
Keeping a drive train clean is particularly important; regularly removing dirt from the chain together with a re-lube means a hugely reduced chance of failure on the road or trail.
Removing grime from around bearing seals prevents the slow creep of abrasive elements into the bearings.
Here's a suggested yearly pedal maintenance procedure:
Remove pedal from crank
Remove the bushing axle nut with a socket wrench
Slide the axle out of the pedal body cavity
Clean around the bearings if required
Regrease around the bearings
Slide the axle back in and re-tighten the bushing nut
Replace the dust nut
Pedal pins are easily damaged or broken, so replacing them should be easy. You should choose a pedal with removable pins of course.
EBIKES – 'CITY BIKE' PEDALS ARE FLAT PEDALS

Pedals for city bikes are flat pedals, technically speaking.
The main design difference is that they lack the broad platform. Not a problem, since you don't need that base of stability and drive that MTB or BMX performance demands.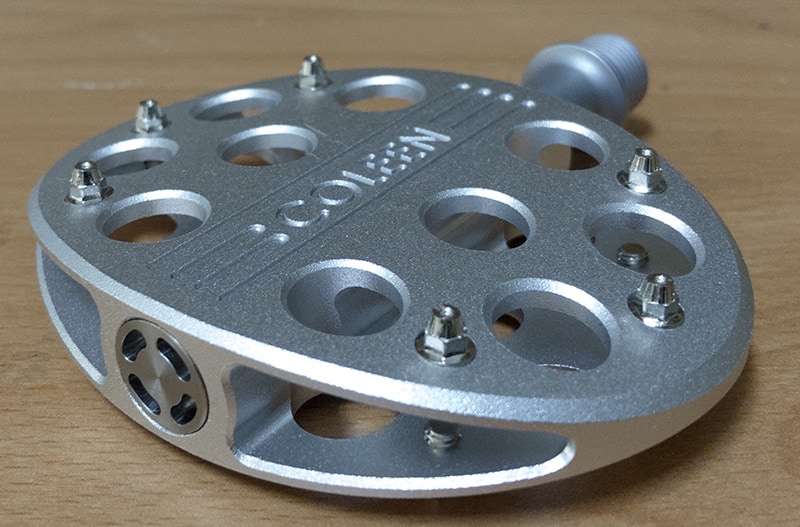 The pedals on The Coleen, one of a new generation of sleek and technologically advanced commuter-cum-recreational ebikes, demonstrate a nifty 'have your cake and eat it' moment in pedal design.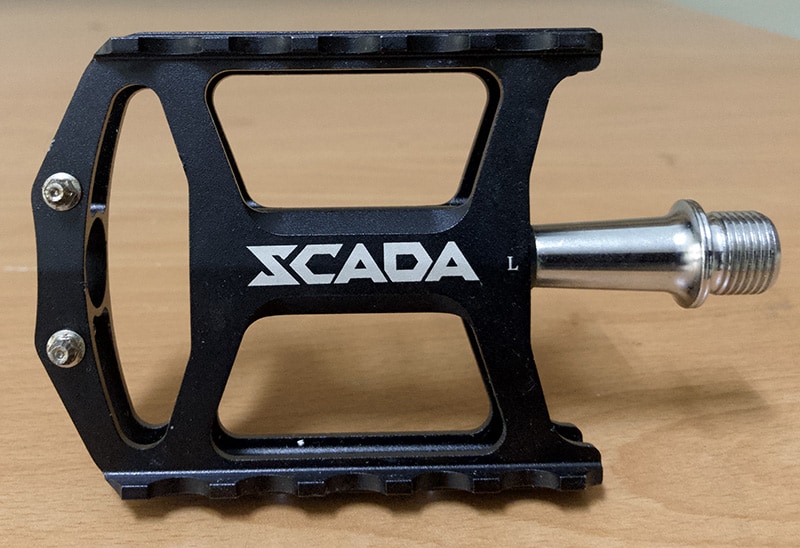 The designers could have gone with a model similar to this. Change some dimensions and angles and be done with it.
The pedals on city bikes and commuting bikes are all "flat" designs.
Most lack the pins and the super-wide base since there is no particular need for the performance enhancements that pins coupled with a broad base make possible—the pins on the outside of this model provide extra grip, preventing a less-grippy sole from slipping out to the side.
Instead they have created a curved pedal that resists the Colleen's straight-lines, challenging the boundary between a flat and non-flat pedal.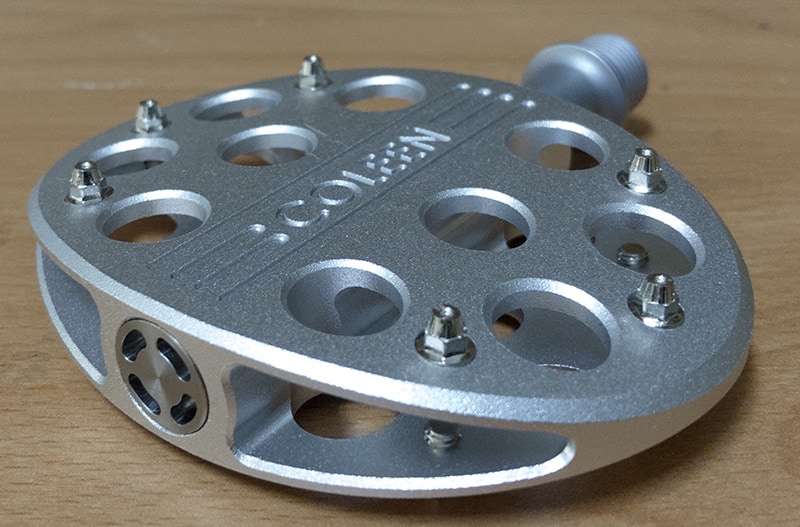 Your instincts tell you that this is no flat pedal. The lack of a broad base along with the curved shape can hardly make pedaling more efficient?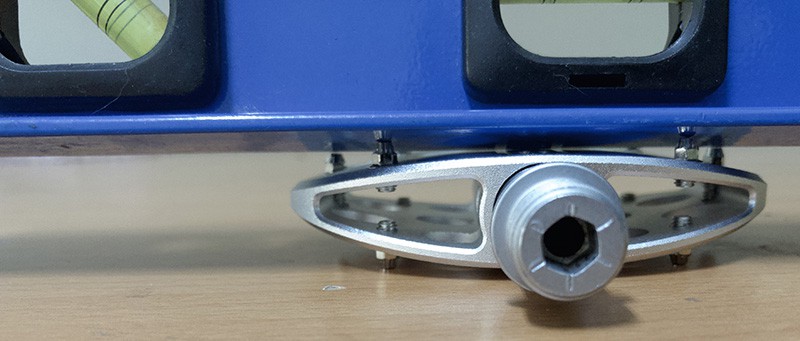 The spirit-level sits squarely on the pins—they're on the same plane, and amount to a stylish interpretation of a flat pedal.
PARTING THOUGHTS

The return and continued technical development of flat pedals, particularly of the broad-based platform models, is a refreshing—even necessary—change from the dominance of clipless pedals, and lack of innovation in previous decades.
If you are a brand looking to delight your loyal customer base with distinctive, durable flat pedal designs, there is no better OEM / ODM partner around today than SCADA. The sky's the limit. Truly.