Flat pedals are default on entry-level road bikes, most BMX bikes; serious mountain bikers own at least one set in addition to a pair of clipless pedals.
Recent decades have seen the gradual expansion of low-intensity sport cycling on the road, the arrival of city and commuting biking as a category in addition to the continual expansion of the trekking category.
The ebike revolution has also added to the momentum, in which we've seen the growth of e-city and e-commuting ebikes in particular as rapidly expanding category.
Here, then, is a cross section of the newish category of 'road bike' flat pedals.
CONTENTS
Why 'Road Bike' Flat Pedals
12 Road Bike Flat Pedal Models to Consider
Alloy CNC (Shimano, OneUp)
Forged Alloy (DMR, RaceFace)
Nylon & Plastic (HT, NS Bikes, Fyxation, Look)
Hybrid Models (Shimano, Crankbrothers, Bontrager)
WHY '

ROAD BIKE

' FLAT PEDALS?

When the precursor to modern pedal bikes appeared in the 1860s, the pedals were flat, and the bikes were only ridden on the road—road bike flat pedals were the default from the outset.
Apart from the addition of toe clips in the early 1900s nothing changed until Look introduced the clipless pedal in the early 1980s; clipless became the preferred pedal for pro road (racing) cyclists and serious sports cyclists.
If a cyclist did not want to clip in, the alternative was a basic flat pedal. And the choice was limited.
Fast-forward to the present and you find an increasingly diverse range of flat pedal models to choose from, most of which are targeted at MTB, BMX, city bike and commuting bike riders.
"Road bike" flat pedals are simply whatever flat, or platform pedals a road bike rider chooses to use on their road bike.
If you are looking for stability, the wider the platform the better.
If you are looking for grip, then pedals with ribbed surfaces or sandpaper work well.
The best grip is from pins. A wide pedal with pins provides both grip and stability.
The material used is a factor affecting weight and cost.
12 ROAD BIKE FLAT PEDALS to CONSIDER

What counts as a "good" flat pedal for road biking purposes?
Weight is not such an important issue since, objectively, a rider's body weight over the course of a ride can fluctuate more than the difference in weight between pedal models due to dehydration—long distance road trekking for example.
Still, the mode of road cycling that flat pedals best compliments is low-intensity, mainly urban cycling where style, durability, and function are the important variables with each cyclist prefering a particular blend.
I've curated a selection of quality road bike flat pedals arranged them according to material and structure.
The list is by no means complete; it's designed to be representative of the (increasing) diversity of road bike flat pedal designs that are available for purchase.
Alloy CNC

Light, strong pedals are chiseled—literally—out of solid aluminum blanks mounted inside CNC machines.
The pedal body's design is created within a CAD desktop application, then translated into G-code, the most commonly used programming language.
CNC operators activate the program and process pedals in batches.
Followup processing includes installing pins or brackets (for 'hybrid' flat pedals—see below).
Shimano PD-EF205

This is a quality pedal for urban commuting or city biking.
Whereas the overwhelming majority of models use sealed bearings, the PD-EF205 relies on a cup and cone assembly with 14 steel balls on the crank end, 17 on the outer.
Disassembly for cleaning, re-greasing, and replacing worn balls is not difficult with the right tools; sealed bearings are pressed in during manufacture and replacing them requires specialized tools and knowledge.
The broad, partially crenellated surface and nylon (I assume) textured inserts provide stability and grip in equal measure.
Although not mentioned in the specifications, the axle is likely chromoly, which would take an elephant to bend and (assuming no elephants) will last forever.
They retail at around USD $70-80, higher or lower depending on who you deal with.
OneUp Components

OneUp's "Aluminum Pedal" (no fancy product numbers here…I'll refer to it as 'AP' in short) is in many ways the complete opposite of the PD-EF205.
The chunky, solid PD body gives way to AP's long lines…and replaceable steel pins for grip.
These are MTB pedals meant for heavy-duty use on the trail; indeed the pedal's thin profile and chamfered edges are so engineered to reduce the chance of impact against obstacles on a rough off-road route.
The stable support, 10 pins, and chromoly axle make this a technical winner, although certainly overkill where used fro more leisurely on-road cruising though.
As long as there's no impact damage—unlikely off the trail—regularly maintaining the serviceable sealed bearings guarantee a long life.
The price of around $120 makes it a bit of an expensive option though.
Forged Alloy

Forged pedals are heavier than CNC machined pedals and therefore should be cheaper, although the retail price depends on the design.
Pedal bodies are pressed into shape, at varying temperatures, in a mold in the forging process, an inexpensive technique of mass production.
Some models are forged, then precision-finished with CNC machining.
DMR V12

This model is forged from one piece of aluminum alloy with 10 adjustable grub screws for grip, a chromoly axle and two sealed bearings.
Riding in an urban environment doesn't require the extreme stickiness that a cyclist will get with all 10 screws fully extended.
A millimeter or two of screw protrusion ensures most footwear holds to the pedal platform (wearing boots with heavy tread on the soles? extend the screws…).
The downside of pins or screws is the potential for ruining a good pair of pants that rub up against them, or shin scrapes where legs are bare, the result of a mistimed foot-to-pedal connection.
A Service Kit with new bearings, bushings, seals, nuts, and bolts is available making this pedal the only one you may ever need on the bike you fit it to.
A pair will cost around $50, depending on where you go.
Atlas from RaceFace

RaceFace forge the solid shape of the pedal body then finish it by cutting the spaces that you see in the finished product by CNC machining.
The chromoly axle is supported with four sealed bearings.
You'll pay around $180 for a pair of what is a premium pedal aimed at full-on mountain biking.
That's not to say they don't belong on a trekking, commuter, city, or cargo bike for use only on the roads though.
A much cheaper alternative might be RaceFace's Ride Pedal, made of Nylon which costs around $34 a pair.
Let's now have a look at a range of nylon road bike flat pedals.
Nylon & Plastic

The advantages of nylon and plastic are that they are lighter…and cheaper.
They are not as strong as aluminum alloy or steel and will wear out quicker, and be more easily damaged.
But the sort of road biking we're talking about here is not high-performance sport or pro racing—nylon and plastic pedals are a sound choice in this context.
HT Components PA03A

This premium nylon composite pedal has a chromoly axle with dual sealed bearings, a DU self-lubricating metal-polymer bushing bearing, and 8 replaceable grub screw grip pins.
Nylon composite means glass or carbon fibers are added to the base nylon; in this case, glass. A rebuild kit is available, ensuring years of service.
Some users complain about a lack of grip in wet conditions on the trail since, like the other models covered here, the PA03A is designed for mountain biking.
They'll be fine for biking wet, but not usually muddy, roads around town though.
A pair costs around $69, expensive when compared with RaceFace's Ride Pedal, as you're paying for the stronger composite structure.
NS bikes 'Nylon' Pedals

This model is formed from transparent polycarbonate—often glossed as 'plastic'—and has cup and cone ball bearings.
Rather than pins, the pedal platform features integrated studs forming part of the pedal body.
Much lighter than aluminum they'll cost somewhere around $16-18, and might be all a cyclist needs for frequent short journeys in local urban neighborhoods.
They'll cost in the vicinity of $35
Fyxation Mesa MP Subzero

This one's a full-on MTB pedal along the lines of HT Components PA03A, and priced the same.
It features sealed bearings and a DU bushing, electroplated stainless steel replaceable pins.
Overkill for the road? Not at all. They're stable, grippy, and would probably last forever since they won't receive a fraction of the punishment on the road as on the trail.
$50-55 depending on your source.
Look – Geo City & Geo City Grip

Look partnered with innovative footwear specialist, Vibram, to create a unique pair of city bike pedals that could lay claim to being the ultimate road bike flat pedals.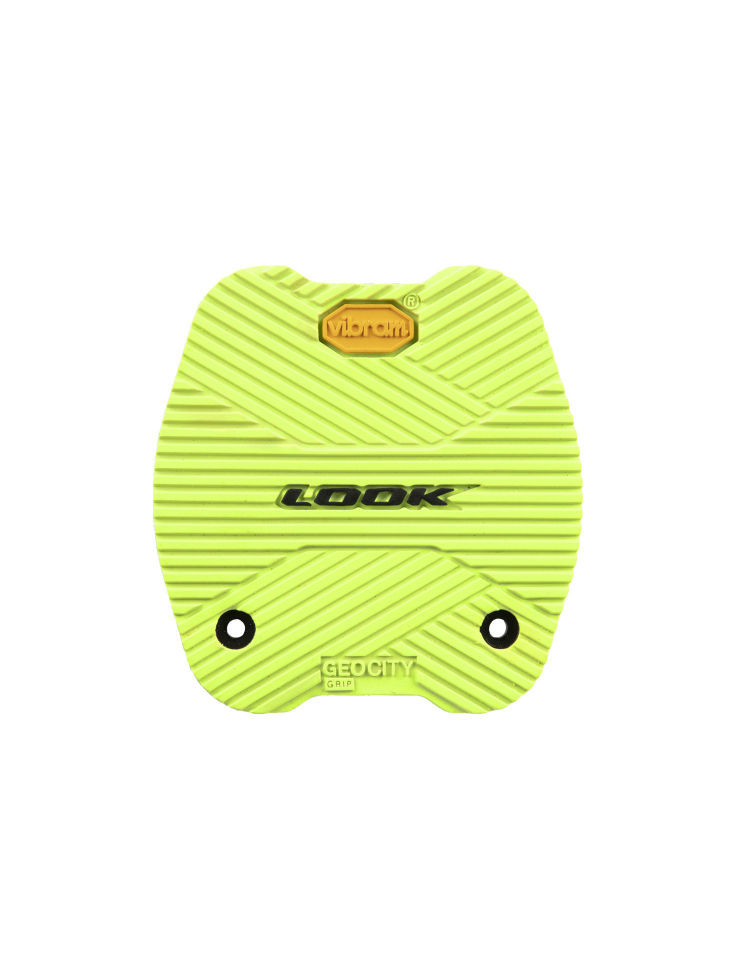 The 103mm x 107mm platform provides stability, but it's the grippy overlay that's the focus of this product.
Look guarantee a non-slip surface "whether you're biking in ballet pumps, leather brogues or work boots" without resorting to pins which are hardly elegant and can take chunks out of a rider's shins as well as their designer kicks.
Expect to pay around $75.
Hybrid Road Bike Flat Pedals

Hybrid models have a bracket bolted into one side of the platform allowing cyclists to clip-in with a cleated shoe.
This bracket is SPD-style. You use a flat-soled shoe with a recessed cleat making walking around easy.
Road bike pedal cleats protrude from the bottom of a cycling shoe and are murderously dangerous to walk in, especially on slick surfaces.
Installing a bracket on one side increases the efficiency of a flat pedal used on a road bike to a level of performance close to the level of a dedicated clipless pedal.
Shimano PD-M324

This model's platform, measuring 68mm x 84mm lacks the width of the models covered so far, all of which exceed 90mm.
The cage which functions as the platform has studs to increase grip, but are otherwise not as grippy as other models, by a long way.
Flipping the pedal reveals the bracket for clipping in.
When in use the bracket side being heavier hangs down so the platform side is always facing up, which is exactly what a cyclist needs for
These pedals retail for around $80.
Crankbrothers Doubleshot 2

The Doubleshot 2 ("double" refers to the dual function we can assume) is also an example of a forged aluminum alloy pedal.
The particular grade of aluminum chosen is A380 (A380 vs Al6061), widely used in products requiring cast components.
No pins on the flat side. But four, let's call them 'bosses', on the rear and leading edges do a similar job.
The ribs on each side also help anchor a shoe more firmly on the platform.
Unlike the OneUp Components' pedal pins we looked at above, protrusions like these enhance grip but don't dig into shoe soles—replaceable pins are seriously sharp.
That means less traction in the wet, or when straining against the pedal, on a climb say.
Of course, the cycling situations in which you'd be using a hybrid road bike flat pedal won't demand the level of performance requiring that degree of grip.
Anyway, the bracket means you can wear cleated shoes on a ride if a firm connection is needed.
Thus, no grip enhancements are included on the bracketed side. Clip-in, and off you go.
The axle is chromoly which will outlast every other part of the pedal.
The bearing is an LSL-type, that is a "self-lubricating, dry running" commonly used in pedals together with a sealed bearing.
Cost is around $65, again, depending on the source.
Bontrager Commuter

Aesthetically not as neat and tidy as Crankbrothers Doubleshot, the Bontrager Commuter nevertheless has a broad, circular platform with grip enhancements designed to catch deep shoe tread.
Sealed bearings on a chromoly axle mean a pair will probably outlast the bike they're fitted to, where usage is confined to urban environments.
Shimano PDEH500 (hybrid, with pins)

This road bike flat pedal emphasizes platform grip to a much greater degree than the others in this section.
Eight adjustable grub screws complement the platform's ribbed and ridged edge—there'll be no slipping off this one in the wet.
The bracket design makes clipping-in and out extra-easy, balancing performance with practicality.
You'll be looking to pay around $150.
Hybrids — The Road Bike Flat Pedal of Choice?

Hybrid pedals are arguably the perfect road bike flat pedals since the ability to click-in allows a higher level of performance when you want it. Just change your shoes.
The weight of the bracket keeps the platform's flat side facing up so 'non-performance' road biking around town — or a bit beyond — is not hindered by a need to flip the cleat over to access the flat.
FINAL COMMENTS

In the beginning there were only road bikes sporting flat pedals: road bike flat pedals
Then road bike pedals went clipless, although flat pedals remained and continue to be
Later, flat pedal design took off as BMX and MTB riders enthusiastically embraced the increasing variety of platform shapes, sizes, number of pins, fixed, replaceable, and adjustable, that were introduced into the market over time.
Even more energy is being injected into this trend with the influx of first-time cyclists attracted into cycling by the ebike revolution.
The variety of flat pedals from which they can choose is broad and will probably increase.
The (road bike) flat pedal category may well become the dominant category in the near future.