The road bike pedal type that (almost) everyone thinks as the road bike pedal is the snap-in, lock-your-shoe-to-the pedal 'clipless' type.
But, let's not limit ourselves to popular categorizations.
Defining the road bike pedal in terms of function allows us to appreciate that pedals used for mountain biking may also suit low intensity modes of road cycling.
And with the rise of gravel bikes the definition of road 'biking' (as it were…a gravel road is still a 'road', right?) expands further.
Since SCADA manufactures pedals (only one model is directly available to consumers), this article explores road bike pedals from the point of view of function, rather than form.
I illustrate the discussion by looking at some of the base pedal models brands have used as the starting point for the pedals they have brought to market.
CONTENTS
Performance Riding
Which Pedals are Best for Perfomance?
Clipless
Clipless: Look Delta
Clipless: Look Keo
Clipless: Shimano SPD-SL
Sports Cycling
Shimano SPD vs SPD-SL (SPD for Road Cycling?)
Flat Pedals on 'Road' Bikes
WHAT ROAD BIKE PEDAL TYPES ARE BEST FOR PERFORMANCE RIDING?

Clipless pedals are essential for maximizing performance; that's why every racer uses a pair.
Clipless pedals increase the efficiency of the pedal stroke by enabling cyclists to inject energy into the 'dead zone' half of the pedal stroke.
A shoe firmly attached to a pedal from the the bottom of the stroke back to the top pulls up, just as the opposite side pushes down.
Sport riding operates at a lower level of intensity, a more leisurely pace.
Probably just as many sports cyclists use clipless pedals as do not, since improvements in flat pedal design along with the expansion of the range make this type of pedal well suited to road bikes (discussed in detail below).
Clipless Road Bike Pedal Types for Performance Riding

The clipless pedal was invented around the time that most of modern bike design came together in the 1890s, when the only bike was a road bike and the only type of pedal was a road bike pedal, by definition.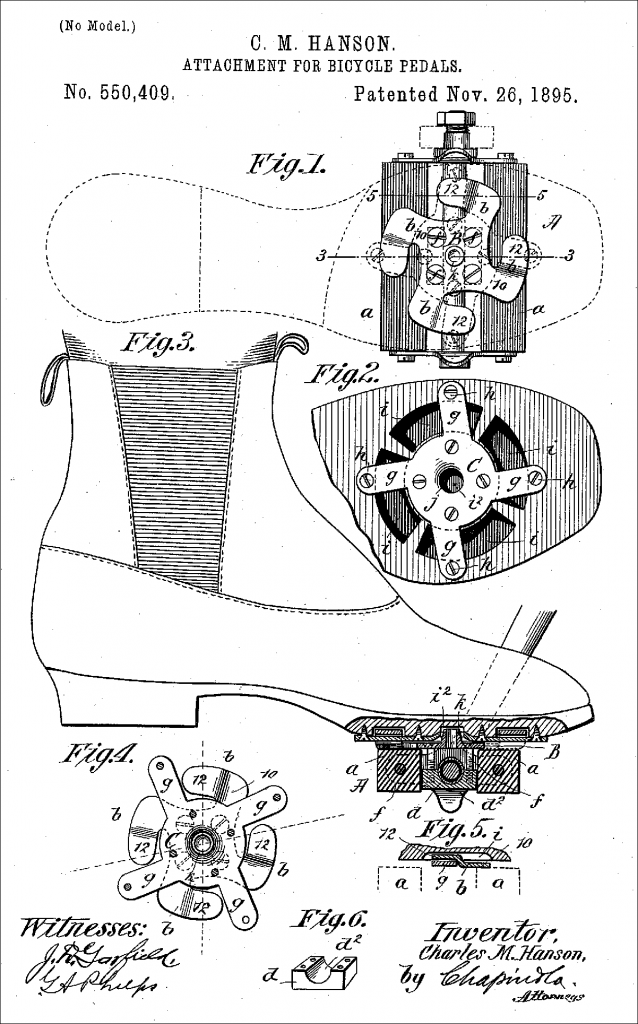 Reflecting the emancipatory impact on women of the first cycling boom (1890s), Charles Hanson's invention appears to be modeled around a ladies' boot.
There is no record that the Hanson clipless pedal was actually manufactured and deployed, which is probably understandable, as it was surely way ahead of its time.
You could imagine that back then the pure novelty of the safety bike, which was a massive improvement over its precursor, the Penny Farthing, in all areas not least when it came to safe mounting and dismounting, simply required the same flat pedal that had worked for the latter—what cyclist would be looking for extra efficiency from a clip-in mechanism?
Following a gap of 80 years, Cino Cinelli developed the first practical working design in 1970, the M71, which paved the way for Look's introduction of the model that established the clipless pedal as the pedal for performance road cycling a decade later.
The M71 required a cyclist to reach down and tweak a lever located on the outward facing edge which, in a crash, is the first to contact the pave and so release the shoe.
The ski-binding company, Look, came up with the idea of a plastic triangle fixed to a shoe that slotted into spring-loaded jaws.
The first model, the PP65, was lauched in 1984, and was the year's definitive cycling innovation.
The Look models you'll still find around today are Delta and Keo.
Look Delta

Although Look has discontinued Delta, there is still demand for this model—spin bikes, particularly Peloton, make use of them.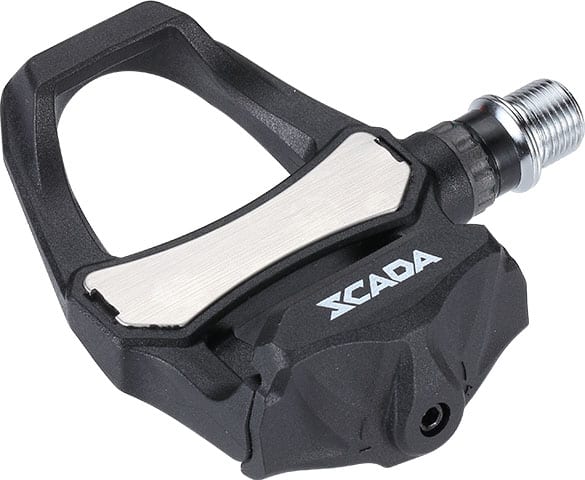 Scada manufactures a Delta-style pedal for those brands that still wish to use the design.
The body is injection engineering thermoplastic body, with a chromoly axle, and fiber-glass reinforced thermoplastic binding.
It's a large pedal at 87mm wide x 98mm in length and weighing 134 grams.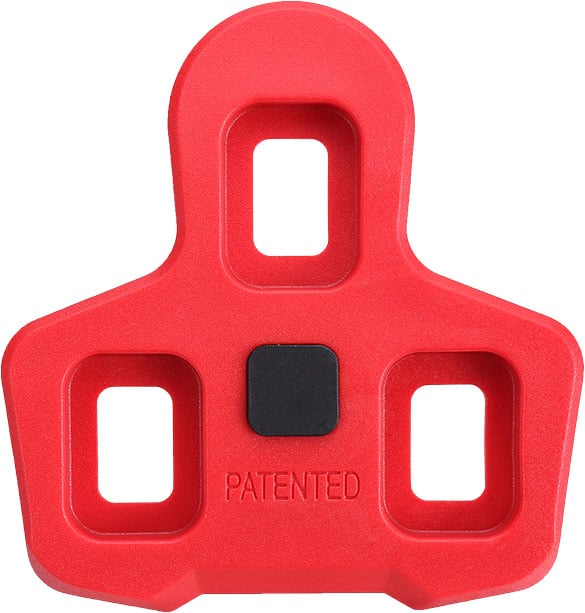 We also manufacture the matching thermoplastic cleat with a 6° float.
Look Keo

Look has expanded the range of Keo units through the years, an expansion even in the face of Shimano mass-market dominance, in which Keo is seen as a higher-end alternative to the ubiquitous SPD-SL design.
During that time it has retained that distinctive bullet shape—a little wider in the rear compared with the front—whilst increasing the number of models available across the range.
In contrast to Shimano, Look interestingly classifies Keo in terms of modes of road cycling, or "experience" as they put it:
Race (high octane, high performance road cycling)
Gran Fondo (endurance road cycling)
Comfort: (leisure cycling which would include city and commuting pedals)
You can think of Keo as a base design to which particular technical specs are assigned relative to which of the three modes of cycling a rider is into.
Shimano's domination of the mass-market is through a range of durable road cycling pedals that, while lacking Keo's elegance (and history), nonetheless have earned a stellar reputation. (More on Shimano in the next section).
At Scada we provide the raw material for the creation of a pedal in the tradition of the Keo Max or Keo Classic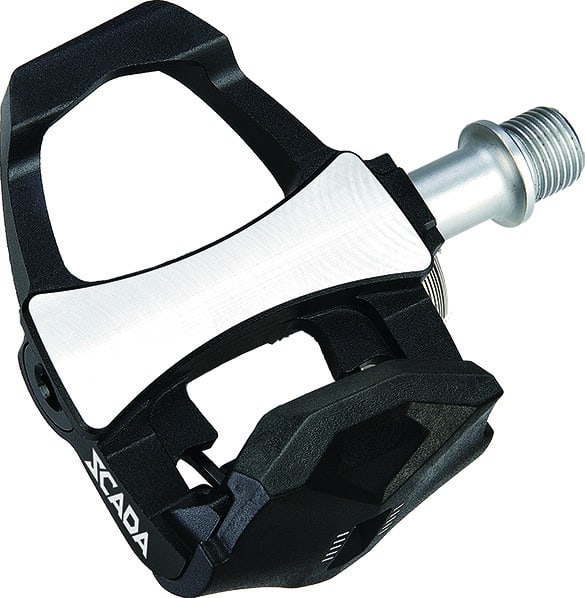 This 6061 aluminum model measures 85mm x 90mm, and weighs 157g.
The axle is chromoly, with a fiberglass reinforced thermoplastic binding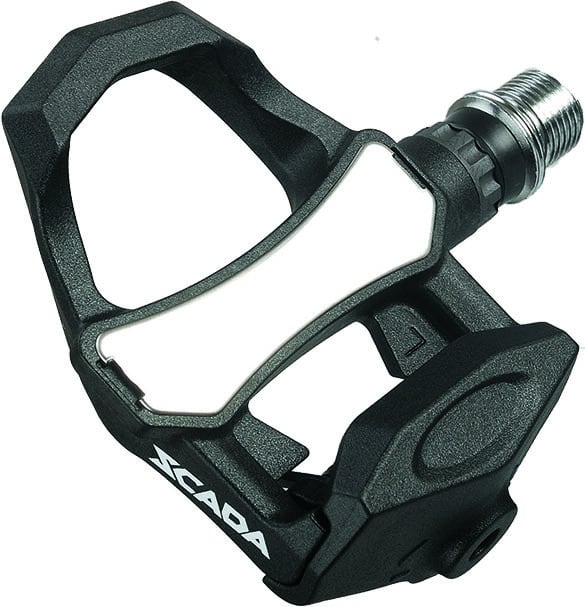 A broader model, 83cm x 94mm, and weighing 125g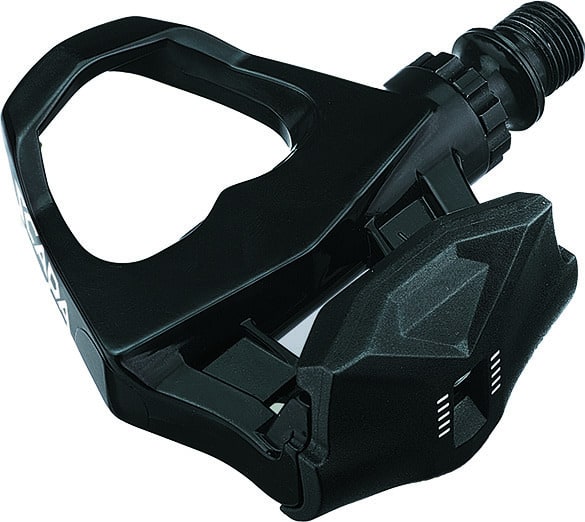 A die cast aluminum alternative measuring 86mm x 86mm and weighing 164g
Shimano SPD-SL

Like the "Number" in "PIN Number", there's a redundancy ('S' = Shimano) here that cyclists are happy to live with.
The "Shimano Pedaling System" or SPD now refers to the category of clipless off-road pedals.
The road bike version is the SL or "super light".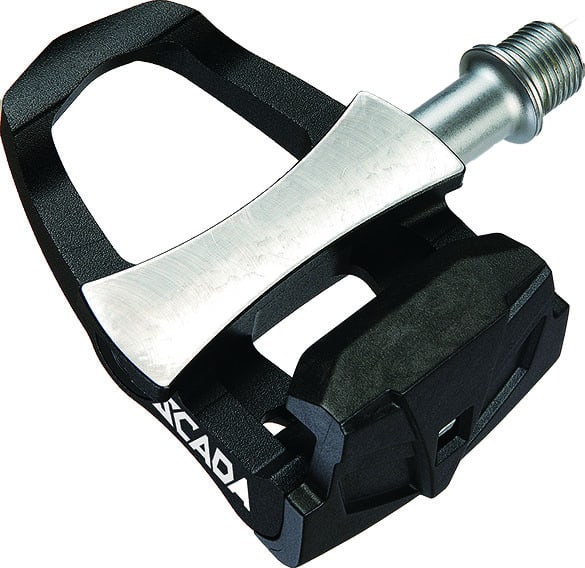 SCADA's SPD-SL compatible model has a 6061 aluminum body, a fiberglass reinforced thermoplastic binding, and measures 87x90mm for163g.
SPORTS CYCLING – 'ROAD BIKE' PEDALS…ONLY?

SPD vs SPD-SL

Whilst Look gave us the first practical clipless pedal, Shimano (who followed suit with their SL )adapted the concept to the often muddier conditions of the trail giving us the original SPD.
Stepping into 'egg beaters' which can be clipped into from either side, adds convenience to an otherwise tricky maneuver every time a cyclist re-mounts stopping.
Moving around upon dismounting is also easier since you can wear flat-soled cycling shoes, rather than risk hobbling around atop treacherous road bike pedal cleats. (Who hasn't gone A over T on slick tiles at least once? Diabolical!).
Some cyclists won't use SPD designs on their road bikes for road cycling citing
a lack of stability over longer distances
slight vertical wobble
two bolts wear more than SL three bolts
a noticeable difference in power transfer into the pedal and
"hot spot" episodes.
Lack of stability and vertical wobble are likely a function of the shoe sole: the stiffer the sole, the more stable the pedal.
Hot spots, however, are 'overdetermined' you could say—several variables interactto cause that particular discomfort.
Hoards of road cyclists use SPD-style pedals for road cycling, citing the convenience, and avoidance of hobbling around bandy-legged on cleats.
Some also report that the design is easier on their knees.
The base models from which SCADA has produced SPD-style pedals are both crafted from 6061 aluminum with a chromoly axle and tension adjustable bindings; both weigh 142g.
The main difference is in the dimensions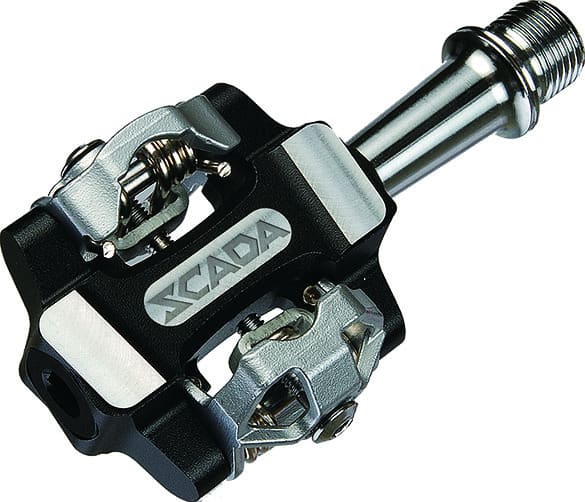 82x55mm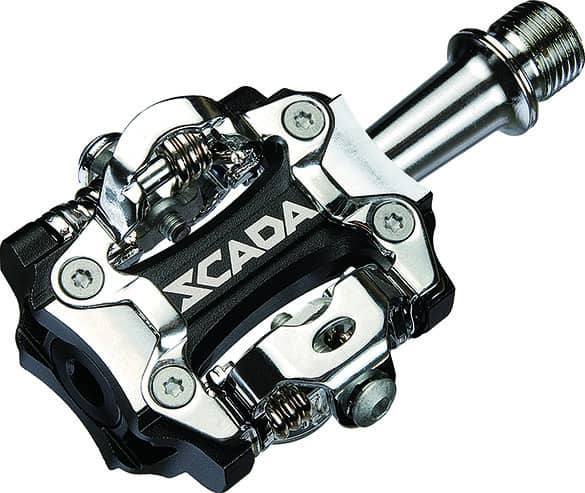 80x60mm
Flat Road Bike Pedal Types
The pedal design which made the first bikes rideable was the flat pedal.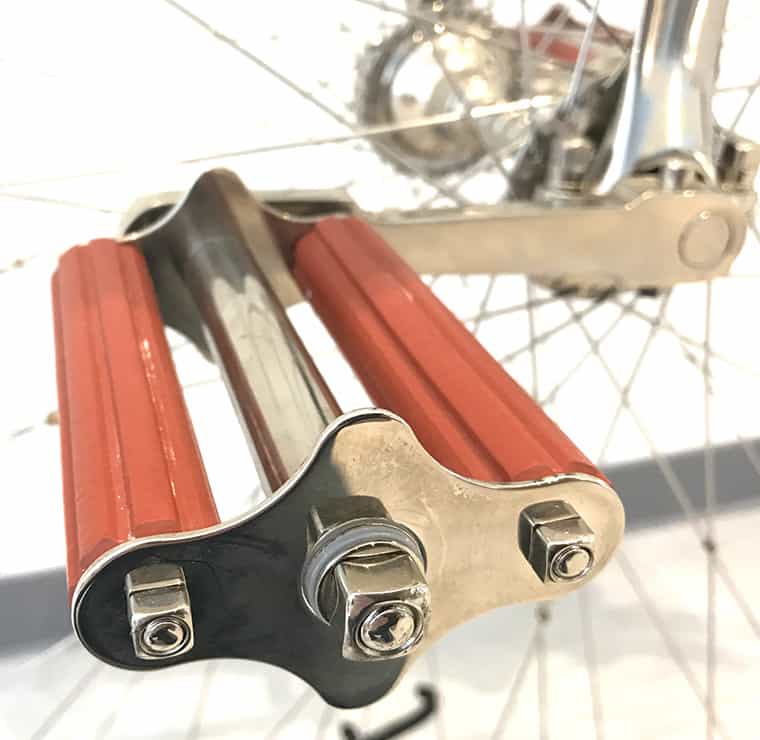 The original design remains, used on kids' bikes and entry level bikes—and in this image on a replica of the original Penny Farthing bike.
There are a number of flat pedal—or platform pedals as they are also known—suitable for sports road cycling.
BMX and off-road mountain biking broad platform pedal designs have proliferated over the last decade.
Many models are developed as a collaboration between a brand and an ODM manufacturer, such as SCADA.
After a period of time, they can be made available for general release, or 'open mold' as it's known in the industry.
The key design features are:
broad platform support
pins for grip
open design that discourages mud build-up
The most useful feature for sports road cycling is the broad platform; fixed pins almost ensure flat sole shoes retain contact with the platform.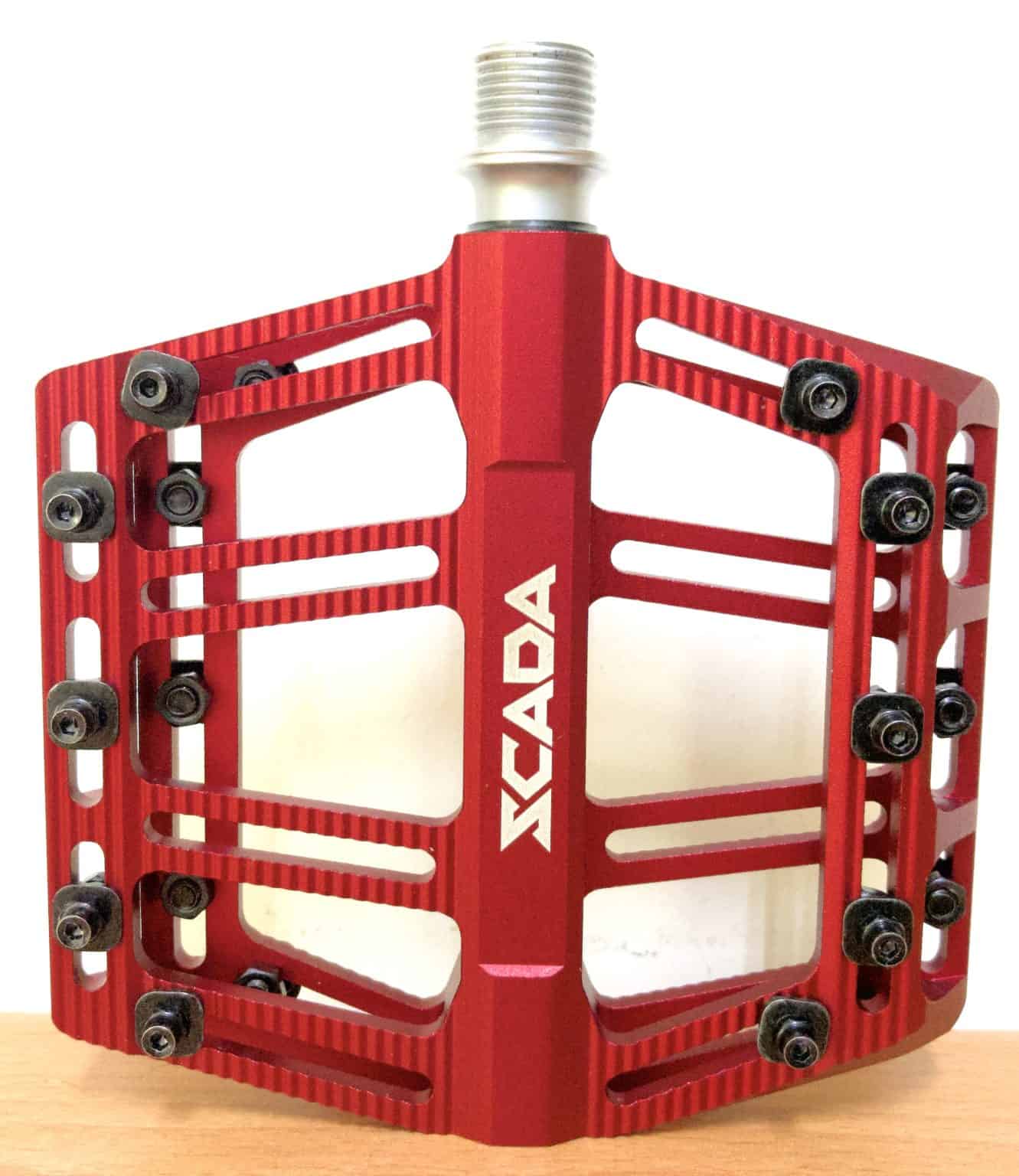 A model with adjustable pins like this one is overkill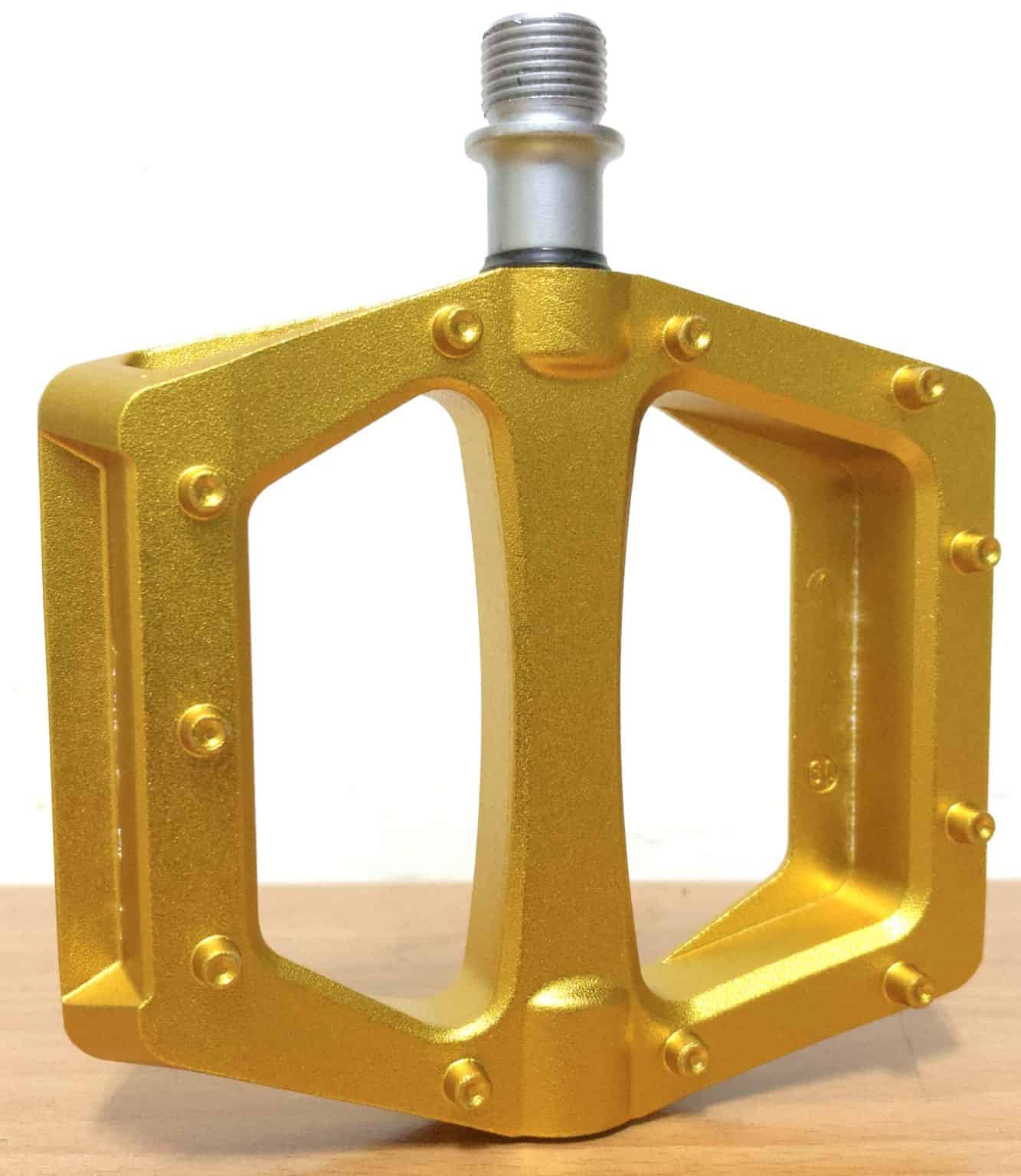 Fixed pins are cheaper and although this model assists in maximum soil dispersion, the broad surface area in conjunction with pins makes this a practical option.
Emphasis on practical, since a big pedal cannot match the minimalist elegance of an SPD/SPD-SL style clip-in pedal.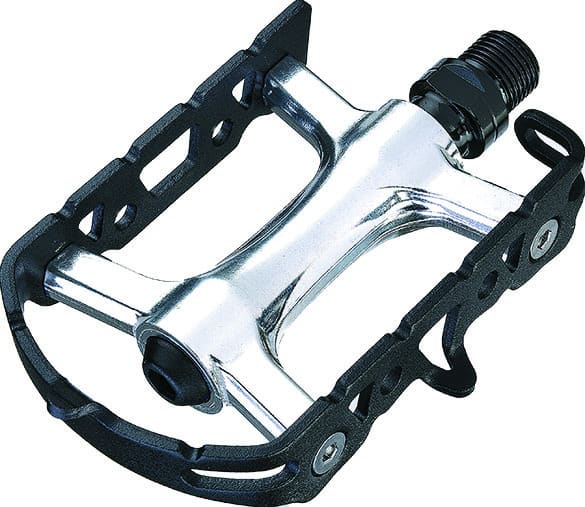 An entry-level model along these lines would also do the trick, although if you're on a mid- to high end bike, you're not going to go for it….(surely not?).
Flat-style pedals are default in other modes of cycling, some of which are also appropriate for sports cycling.
Let's have a look at some of these 'road bike' pedal types.
CITY AND COMMUTING ROAD (BIKE) PEDAL TYPES

Since city and commuting modes of cycling mostly take place on paved roads in urban areas, any one of a range of models that you'd call flat pedals for practical purposes is suitable.
Clip-in pedals don't offer any advantage and are a nuisance where distances are shorter distances and especially if a cyclist gets on and off several times.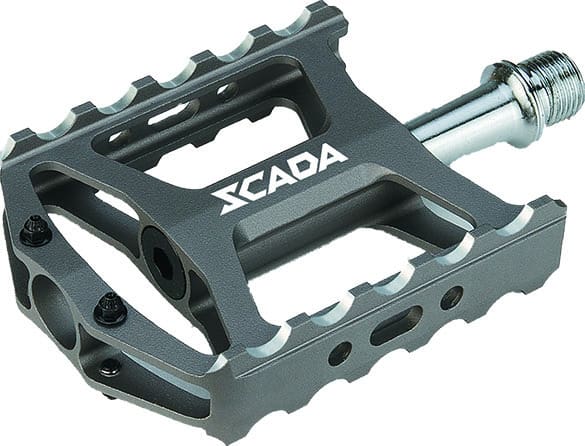 CNC machined (aluminum 6061) models such as this will always be more expensive, since more elegant designs and, indeed, any design that can be drawn up in CAD, can be realized.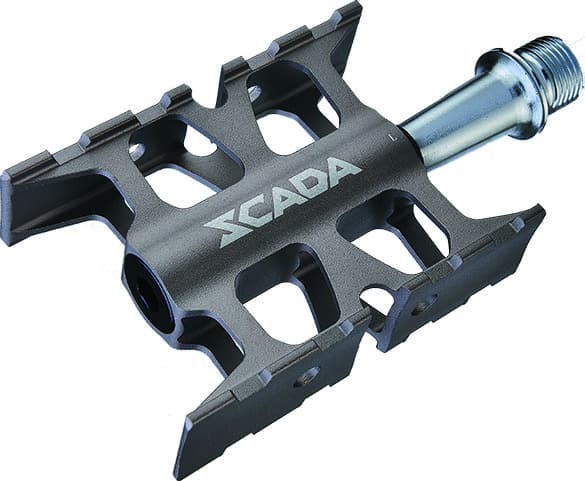 Stylish and minimal, shoes stay on these pedals even if a cyclist pushes the limits.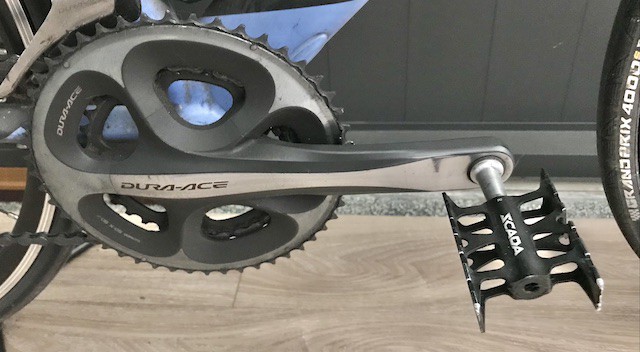 This particular model, for example, has been in use on a mid-end alloy road bike for several years.
The cyclist prefers a pedal that fits under his shoe like a clip-in pedal in order to avoid using a clip-in pedal which he feels is not needed for the moderate paced (sports) road cycling he does to keep fit.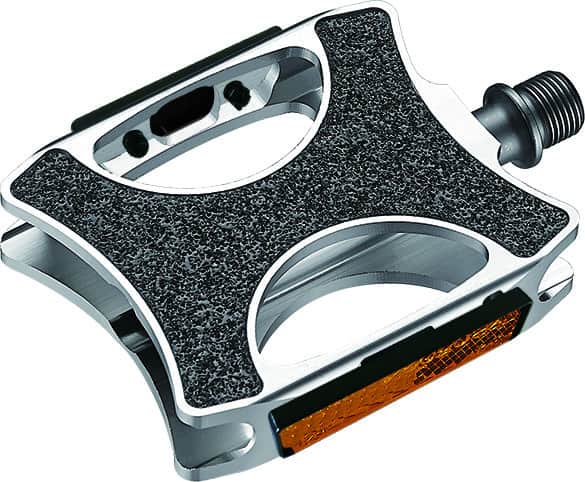 Sandpaper added to the platform means most any type of footwear will grip, allowing a design without crenellations Plus a pair like these are a bit more stylish, and reflectors improve safety on city streets at night.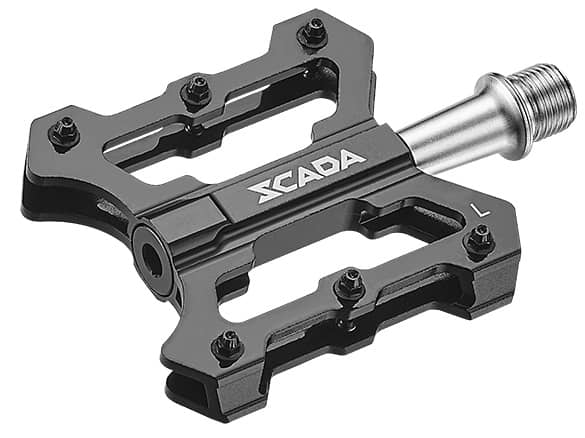 Pins are an alternative to sandpaper and hold most types of footwear solidly on the platform.
Although the Coleen can be used for much more than as a city or commuting bike, it fits the category well.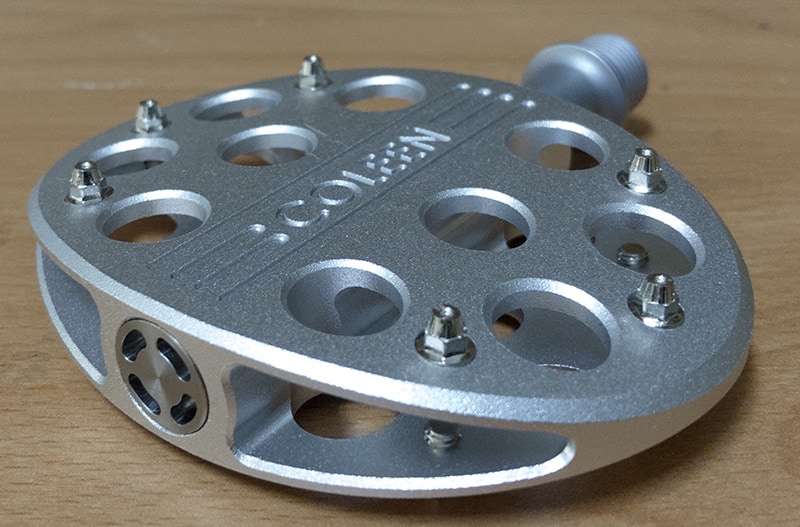 In collaboration with the brand, SCADA manufactures the distinctive pedals used across the four Colleen models in the range.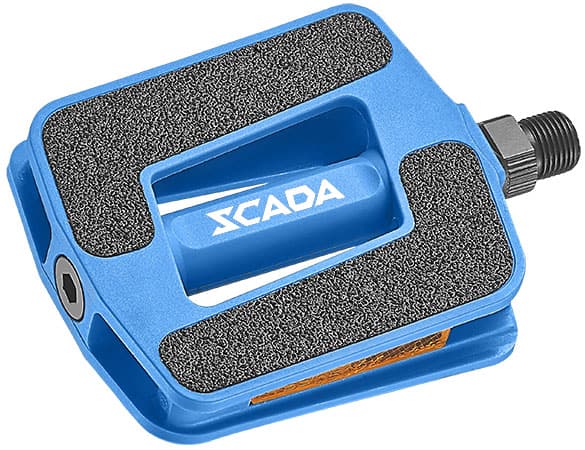 Engineering thermoplastic is not as durable as aluminum, but still enables brands to produce much cheaper pedals.
FINAL THOUGHTS
For performance, you'll go for clipless pedals every time … assuming that pedaling efficiency is your goal.
But for lower intensity, fitness cycling, mid-end or basic flat pedals are all you need.
And for cyclists who invest in stylish ebikes the same flat pedals will do the job.
Stylish pedal designs, however, will probably come from brands, such as The Colleen, who create brand-specifc pedals—functionally generic, but .
The point is, a wide range of road bike pedals are available to suit, depending on the type of riding a cyclist has in mind.